Workshop Linkage Handling Solution Of Multiple Rail Transfer Carts
April 12, 2022
On railways, in factories, and in workshops, how to realize transport if the workpieces be larger or transported more at one time?
I know that the rail transfer cart can be transported, but the rail flat car is made more than ten meters long, which is inconvenient to use and the cost is high. Then we can realize the handling through the linkage scheme, and use multiple rail transfer carts to link with link rods to run synchronously. At the same time, a new problem has arisen. Can so many transfer carts realize joint control? The answer is yes, the remote control can achieve single-transmission and multiple-receipt, and can also control a single car independently.
According to different usage occasions, multiple platform carts can all have power, can be linked together, or can be disconnected and used independently. At the same time, the rail transfer cart can also be located in the middle position with a power source, and the front and rear push-pull and traction rail transfer carts are not powered, so that the middle power car can push or pull the flat car behind. Functions can be realized: forward, backward, turn, straight and so on.
The following plan diagram is a case of our cooperation with a certain chemical industry unit. Three rail transfer carts are used in linkage. The middle rail transfer cart is powered by the battery, and there is no power car in the front and rear. Turning route, transferring tons of packages, customers have used it so far without any problems, and the feedback is good.
Technical Parameter:
1. Table Size: 3.9*1.4m
2. Turning Radius: 10m
3. Running Speed: 0-20m/min
4. Function: The electric transfer cart is load and pulls two passive turning transfer carts behind, and the three are linked together, which can move forward, backward, turn, go straight, etc.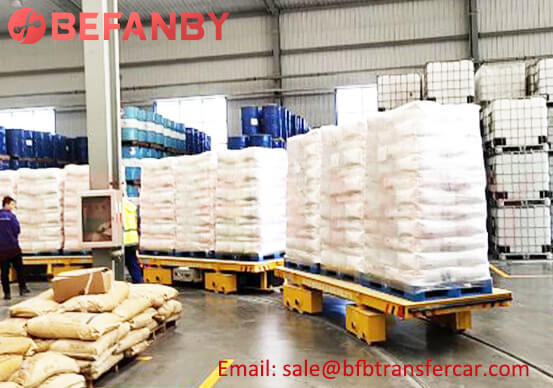 Befanby can customized different type transfer cart on demand, welcome to contact us for more material handling solution.