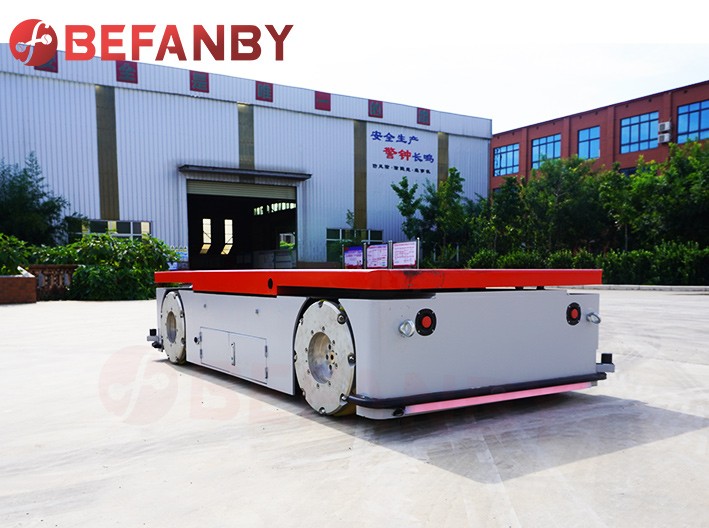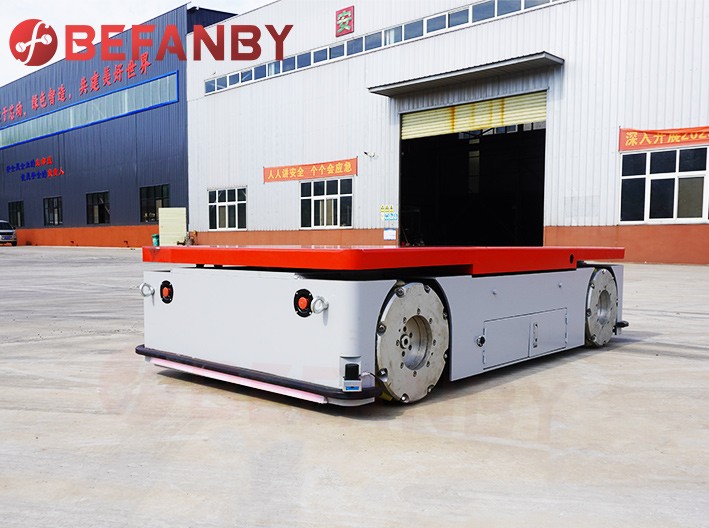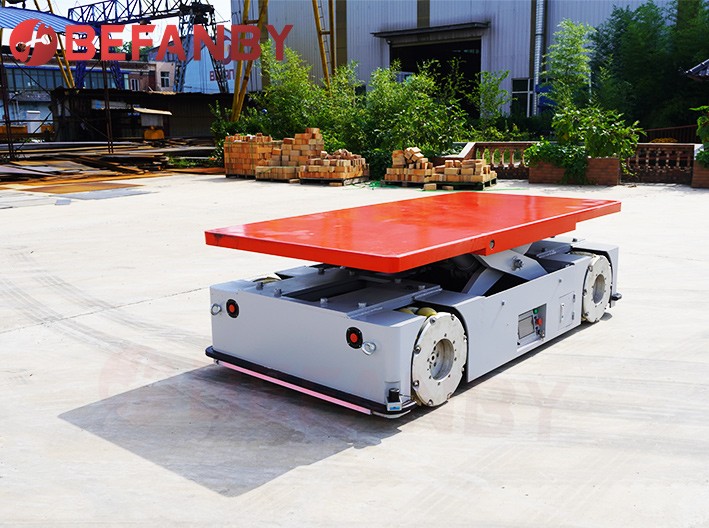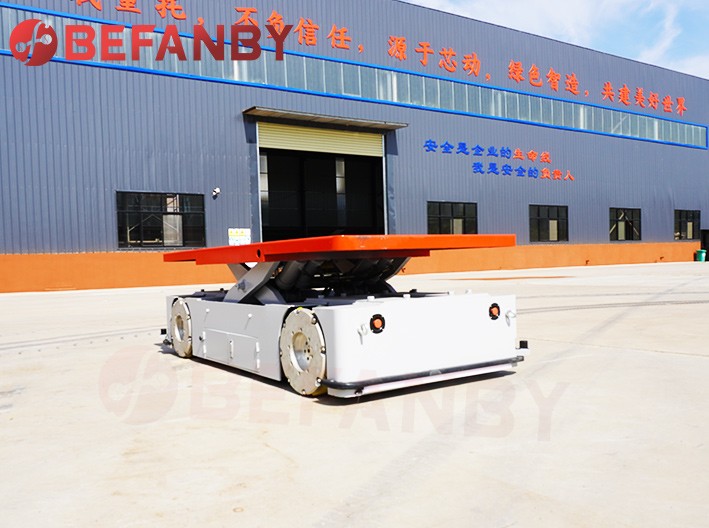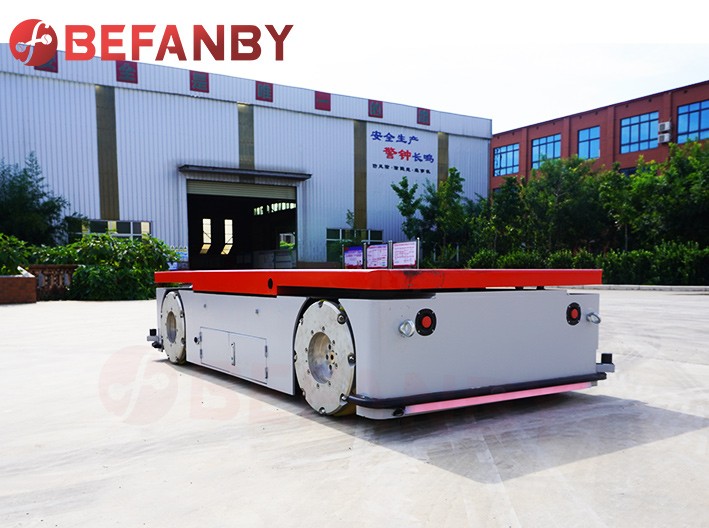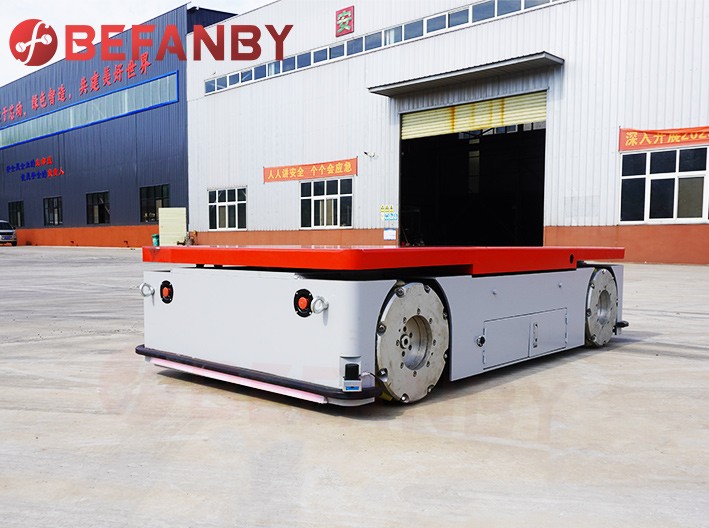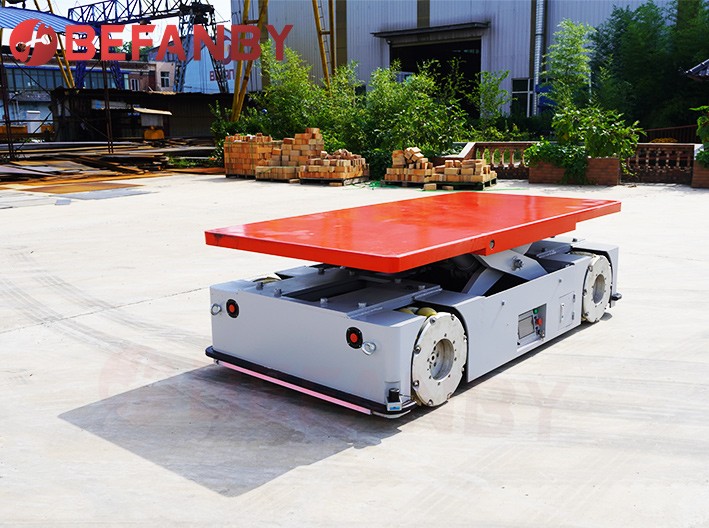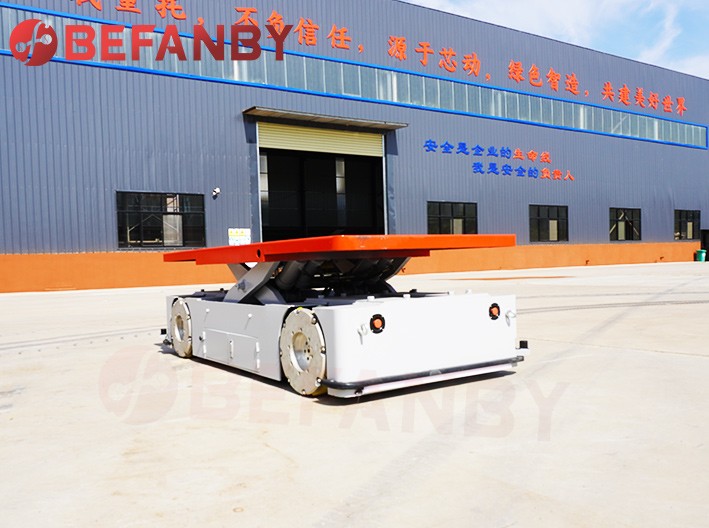 Lifting AGV Transfer Cart
The 5T lifting AGV transfer cart is manufactured by BEFANBY factory, which was exported Canada.
Warranty: 2 Years
Capacity: 1-1,500 Tons
Certificate: CE SGS ISO9001, SASO
OEM: Support
Navigantion: Optional Navigation Method
Advantage: Rich Experience For AGV Design And Exportation
Project Introduce
Our Canada client ordered 1 set lifting agv transfer cart, which was used in their factory for moving packs of wood or small machinery, The Material varies in size greatly but can be as long a 20ft or as short as 8ft with a cross section of 4"x4"< 16"x16". Weight varies per stack but always under 5 ton.
And because the agv needs to work in a small space, and the operating conditions are complex and changeable, the customer wants to choose a mecanum wheel agv for the operation. From our website, we learned that the wheat wheel AGV can move forward, backward, left, right and oblique, etc. Customers think that our products match their workshop conditions, and we have experience in this project , so after our communication, the customer quickly placed an order for us.

Lifting AGV Introduce
A lifting AGV (Automated Guided Vehicle) transfer cart is a type of industrial material handling equipment designed to transport heavy loads within a manufacturing or warehouse facility. It incorporates advanced technology and programming to operate autonomously, without the need for manual intervention.
The main feature of a lifting AGV transfer cart is its ability to lift and lower the load it carries. This is accomplished using a hydraulic or electric lifting mechanism integrated into the cart. The lifting capacity can vary depending on the specific model, ranging from a few hundred kilograms to several tons.
These transfer carts are equipped with sensors and vision systems that allow them to navigate through the facility safely and efficiently. They can analyze their surrounding environment, detect obstacles, and make necessary adjustments to avoid collisions. The AGV transfer cart follows a predefined route or can be controlled remotely to move to desired locations.
One of the key benefits of a lifting AGV transfer cart is its ability to automate material handling processes. By eliminating the need for manual transportation, it reduces the risk of accidents and injuries caused by heavy lifting. It also increases productivity by optimizing the movement of materials, minimizing downtime, and allowing employees to focus on more complex tasks.
These transfer carts are versatile and can be used in various industries, including automotive, aerospace, logistics, and manufacturing. They can efficiently transport raw materials, work-in-progress items, finished products, and even heavy machinery or equipment.
In conclusion, a lifting AGV transfer cart is a cutting-edge material handling solution that combines the benefits of automation and lifting capabilities. Its ability to navigate autonomously and transport heavy loads makes it an invaluable tool for improving efficiency, safety, and productivity in industrial settings.
Product parameters
Technical Parameter Of 5T Lifting AGV Transfer Cart
Model
QY
Remark
QTY
1 SET
Exported Country
Canada
Solution Profile
Moving Packs Of Wood Or Small Machinery
TowingCapacity
5 ton
Custom Capacity over 1,500T
Table Size
2438*1219*533mm
Box Girder Structure
Lifting Height
279mm
Lifting Speed
500mm/min
Navigation Method
Magnetic/Laser/QR Code
Power Supply
Lithium Battery
Running Distance
30m
Running Speed
0-40m/min
Adjusted Speed
Wheel Quantity
4 pcs
Wheel Type
Mecanum Wheel
Working Frequency
It will be used a maximum of (5) times per day
Color
Gray+Red
Customized Color
Special Design

1. Automatic Charging
2. Lifting
3. Mecanum Wheel
Inquiry
Please Feel free to give your inquiry in the form below. We will reply you in 24 hours