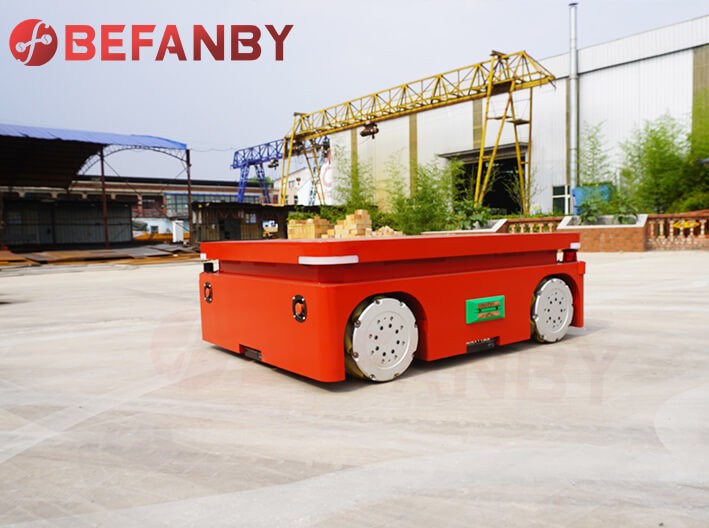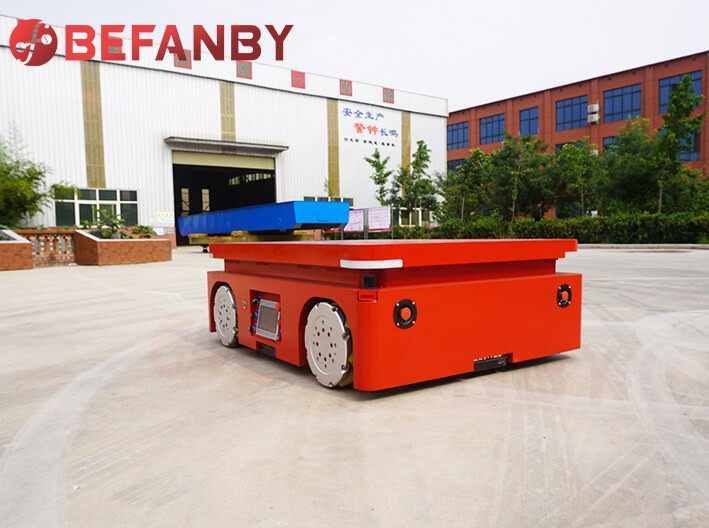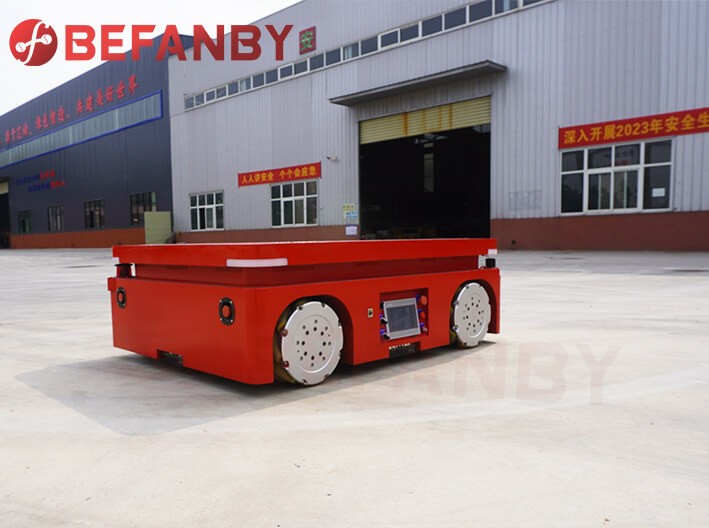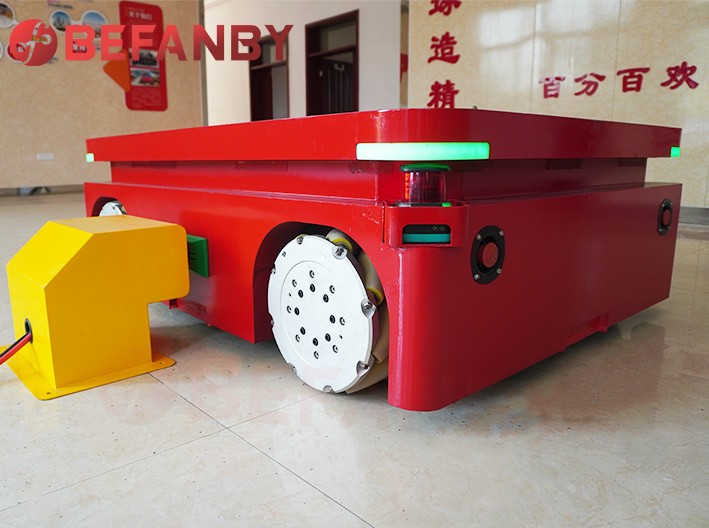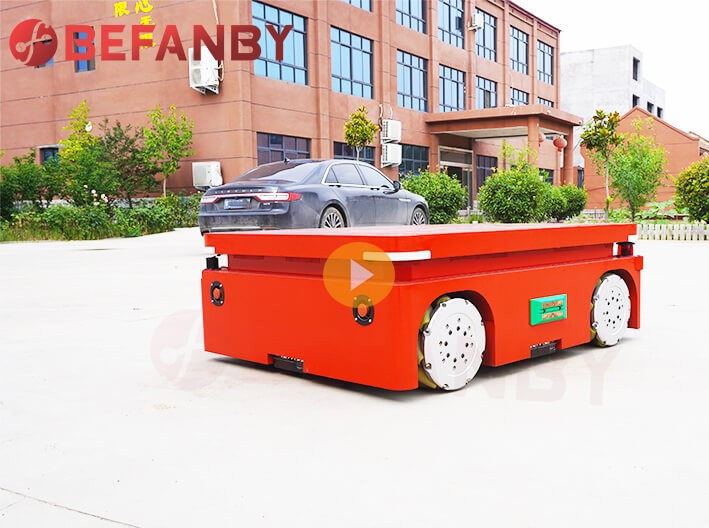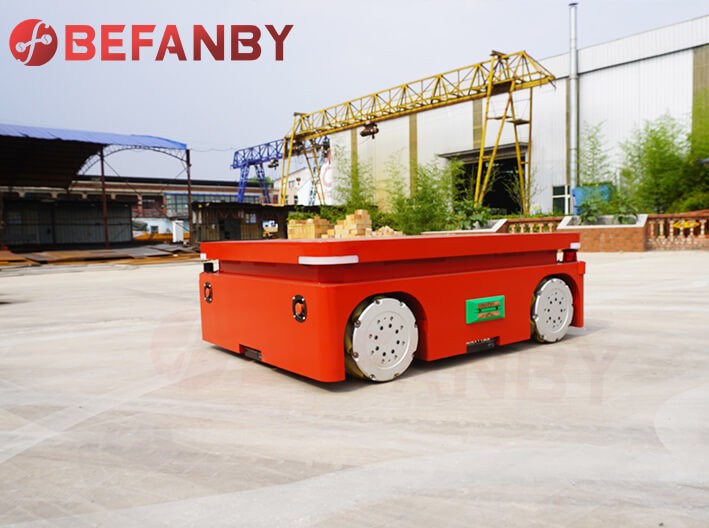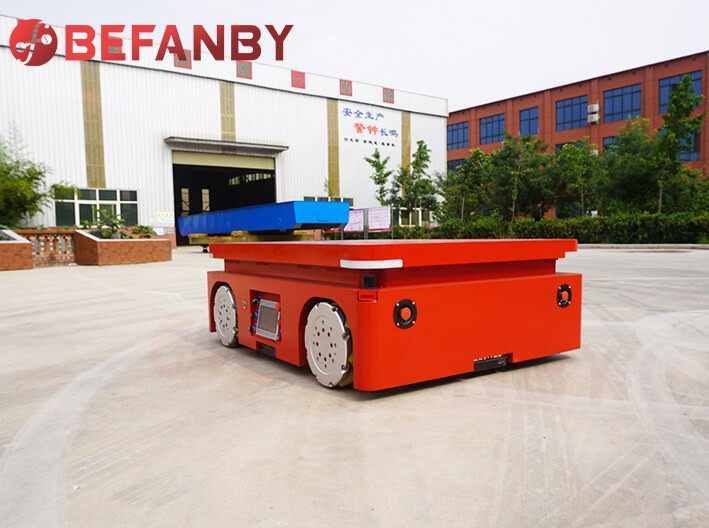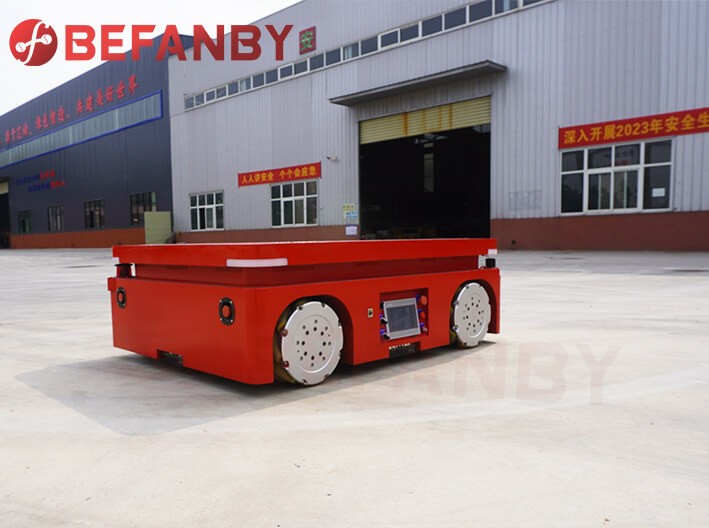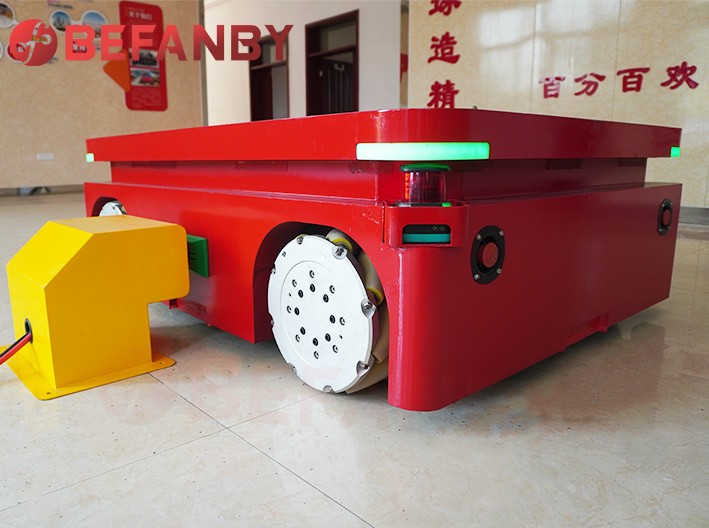 AGV Transfer Cart Factory
The 1.5T AGV transfer cart is manufactured by BEFANBY factory, which was exported America.
Warranty: 2 Years
Capacity: 1-1,500 Tons
Certificate: CE SGS ISO9001, SASO
OEM: Support
Navigantion: Optional Navigation Method
Advantage: Rich Experience For AGV Design And Exportation
Project Introduce
The AGV transfer cart is manufactured by BEFANBY factory, which was exported America. The agv adopts the mecanum wheel, which can realize the vertical and horizontal translation function without changing its own direction. Each wheel is driven by a servo motor and can also realize its own rotation function. The agv transfer cart integrates three navigation methods (laser navigation, QR code navigation, magnetic strip navigation) as one, can be used in a variety of ways, the agv transfer cart is equipped with a laser plane fan-shaped stop, which can meet the 270°, and the reaction area can be set at will within a radius of 5 meters. It is equipped with a safety touch edge, and the car will stop immediately when people touch it, ensuring the safety of people and agv transfer cart. There are 5 emergency stop buttons installed around the body, which can be photographed in an emergency and stop in an emergency. The AGV transfer cart uses lithium batteries as power. It can realize fast charging. There is a charging slider on one side of the transfer cart, which can be automatically charged in conjunction with the charging pile on the ground. The four corners of the transfer cart are equipped with custom corner lights, and the lights can be set. There is an inspection cover on the top, which is convenient for maintenance in case of failure, and the rounded corner design is used around to avoid right-angle bumps.

AGV Advantage
The heavy duty Automated Guided Vehicle (AGV) offers several advantages in industrial applications. Here are some key advantages:
1. Increased load capacity: AGV Transfer Cart are designed to handle large and heavy loads, typically ranging from several hundred to several thousand kilograms. This allows for efficient transportation of heavy materials within a facility, eliminating the need for manual handling or specialized equipment.
2. Improved safety: AGVs are equipped with advanced safety features, such as obstacle detection and collision avoidance systems. In AGV Transfer Cart, these features are further enhanced to ensure the safety of both operators and surrounding equipment in high-load environments.
3. Enhanced productivity: AGV Transfer Cart can continuously operate in demanding industrial environments, significantly increasing productivity compared to manual or semi-automated material handling processes. They can work around the clock, performing repetitive tasks consistently without breaks or fatigue.
4. Flexibility and adaptability: AGVs are highly programmable and can be easily adapted to changing production needs. AGV Transfer Cart can be customized to handle various load sizes, shapes, and types, allowing for greater flexibility in material handling processes. They can also be integrated with existing warehouse or production management systems for seamless coordination.
5. Space optimization: With their precise navigation systems, AGV Transfer Cart can efficiently use the available space by following predefined routes or utilizing dynamic path planning algorithms. This ensures optimized material flow and minimizes the need for aisles or dedicated pathways, resulting in better space utilization within an industrial facility.
6. Cost efficiency: While the upfront investment for AGV Transfer Cart may be higher compared to manual or semi-automated solutions, they offer long-term cost savings. AGVs reduce labor costs, minimize material damage, and improve overall operational efficiency. Additionally, their longer service life and reduced maintenance requirements contribute to cost savings in the long run.It is important to note that the advantages of AGV Transfer Cart may vary depending on the specific application and operational requirements. Evaluating the feasibility and considering the deployment aspects in consultation with AGV manufacturers or experts is recommended.
Product parameters
Technical Parameter Of AGV Transfer Cart Factory
Model
QY
Remark
QTY
1 SET
Exported Country
America
Solution Profile
Transfer Pallet
TowingCapacity
1.5 ton
Custom Capacity over 1,500T
Table Size (mm)
1500*1100*500mm
Box Girder Structure
Navigation Method
Magnetic/Laser/QR Code
Power Supply
Lithium Battery
Running Distance
It will travel from start in inventory to each station, the travel will be about 1000 feet
Running Speedm/min)
0-20
Adjusted Speed
Wheel Quantity
4 pcs
Wheel Type
Mecanum Wheel
Working Frequency
It will be used a maximum of (10) times per day, no more, we do inventory delivery in the morning.
Color
Red
Customized Color
Operation Type
The first is automatic touch screen control (in the case of a single machine); the case of multiple AGV linkage requires centralized control touch screen control, or computer control.
Special Design
1. Three Type Navigation Method(magnetic strips, magnetic nails, QR codes, and lasers.)
2. Automatic Charging
3. Higher Safety Factor
4. Beautiful Appearance
Inquiry
Please Feel free to give your inquiry in the form below. We will reply you in 24 hours