Russian Clients Visit Factory For Transfer Cart Project
April 24, 2023
After the epidemic, transfer cart projects for foreign customers started one after another. This time we welcomed our Russian customers to visit our factory and talk about the factory trackless transfer cart project. Since the client can only speak Russian and does not understand English, we let our Russian-speaking colleagues do the translation, so that the client feels as if he is in his own country, and the conversation goes smoothly.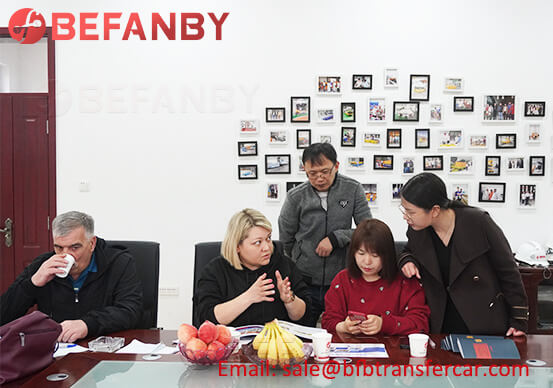 In order to receive our Russian customers smoothly, we have made some preparations, including:
1. Confirm the pick-up time and accommodation requirements with the customer, and arrange the whole process for the customer;
2. Determine the customer's arrival time and go to the airport to receive the customer;
3. Determine the reception time meeting agenda, including introducing the company and products, understanding customer needs, discussing project details, etc.;
4. Check whether the facilities and equipment of the factory are in good condition in order to demonstrate our production capacity and technical strength;
5. Prepare relevant materials and samples so that customers can better understand our products and production capacity;
6. Show the advantages of our trackless vehicles to customers, run tests, load tests, and display operations;
7. Arrange for the docking of relevant factory personnel so that the project negotiation can proceed smoothly.
When customers came to our factory, we warmly received them, and showed them our production capacity and technical strength, introduced BEFANBY products and services in detail, and asked customers about their specific demands and requirements in order to tailor them Customized trackless transfer cart project solutions. Finally, we discuss project details and draw up a cooperation plan to achieve a win-win situation.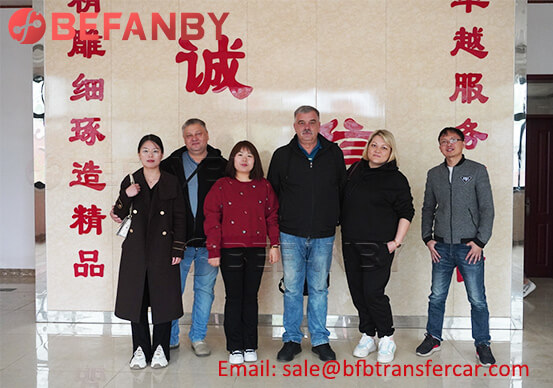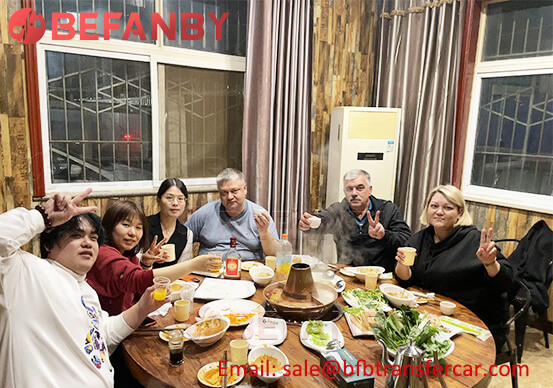 BEFANBY can customize various handling equipment and solutions, and the transporting capacity of the equipment can reach 1,500 tons. With more than 20 years of experience in the design of electric transfer carts, it has unique advantages and mature technologies in the design and production of heavy-duty AGVs and RGVs. The main products include AGV (heavy duty), RGV, KPD low-voltage rail type, KPX battery type, KPT tow cable type, KPJ cable reel type, KPC sliding line type, BWP trackless type, KP unpowered type, BZP turntable type, BWT flatbed trailers, etc., total eleven series, including conveying, turning, coil, ladle, painting room, sandblasting, ferry, hydraulic lift, traction, explosion-proof and high temperature resistant, monorail, Hundreds of handling equipment and various handling equipment accessories such as generators, rail maintenance carts, road-rail dual-purpose tractors, locomotive turntables, etc.
BEFANBY can customized different type material handling solution on demand, welcome to contact us for more material handling solutions.