Multifunctional 63T RGV Automatic Guided Rail Transfer trolley Test And Run Successfully
November 11, 2022
First of all, congratulations to our Shanghai customer for the successful commissioning; secondly, congratulations on the successful completion of our order, perfect cooperation, timely delivery, and successful on-site debugging by engineers; finally, we look forward to our next wonderful cooperation.
Solution Introduce
The 63t automatic guided rail transfer trolley ordered by the customer is mainly used to transfer the crusher in the spray shop to another station. The rail transfer trolley has a lifting system to lift the pallet. During the work, two sets of wheels are used to achieve cross-track change, and then transported to another station.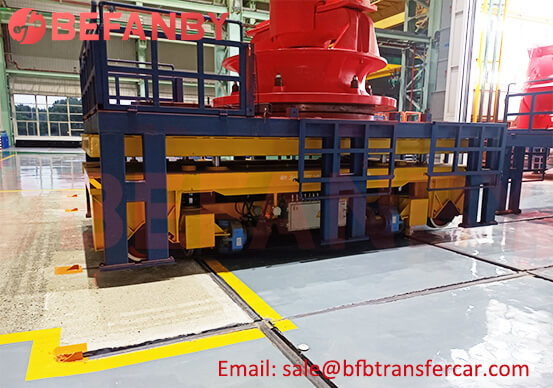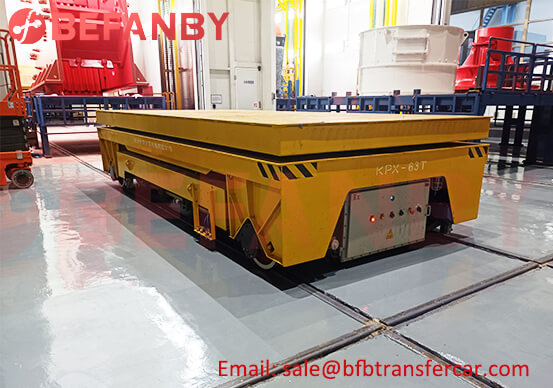 Technical Parameter
Model: KPX
Capacity: 63T
Power:Battery Powered
Table Size: 5300*2500*1200mm
Running Speed: 5-15m/min
Rail Type: P50
Special Design: Lifting ; Anti-explosion; 90 degree change rails; plc automatic control; Automatic stop when move on required position.
Customers' Background
BEFANBY customer, Shanghai *** company mainly produces various types of crushing equipment, including jaw, impact, cone and other crushing machinery, as well as complete sets of crushing and screening equipment, complete sets of artificial sand making equipment, etc. The market share ranks first among peers, and the product exports are more than 20 million US dollars. It has been identified as "China's largest crushing equipment production and export base" by the Development Research Center of the State Council. The company's technology center was rated as "Nationally Recognized Enterprise Technology Center". It has 145 authorized patents and is a national intellectual property pilot enterprise and a Shanghai intellectual property demonstration enterprise.
BEFANBY can customized all kinds of transfer cart on demands.
Just one minutes to send inquiry to us, BEFANBY has help you well to get your economic handling solution and quotation despite whether further cooperation or not.