Workshop Flat Electric rail 10 ton railroad electrics trolley transference For Material Handling
June 06, 2020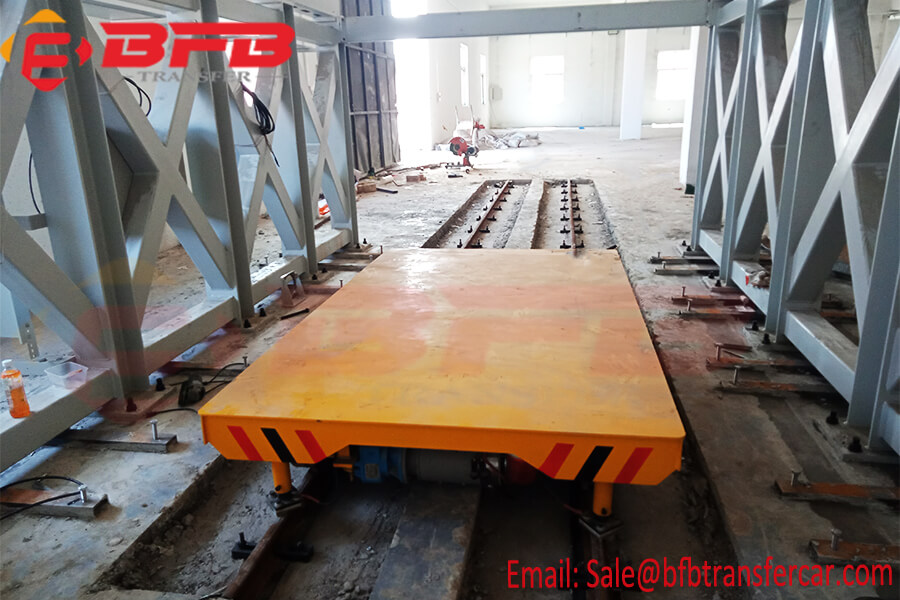 Our customers business scope including Metal processing machinery, molds, composite material processing equipment, 3D printing equipment, vacuum equipment, metal products, CNC products and parts research and development, manufacturing, processing, sales, technical consulting, technical services, technology transfer, etc. They use the transfer trolley for material handling.
According to the requirements of our customers, the power supply system adopts low-voltage rail-powered electric trolley. This series of electric transfer trolleys are not restricted by time and running length, and are suitable for occasions with frequent use and heavy workload.
Select 36V low-voltage rail power supply. The working principle of this type of electric railroad trolley is that the power is supplied by the rail and the motor drives the flat car to walk. The flat car is equipped with on-board control buttons that can control the forward, backward and stop of the flat car. The flat car is braked by an electromagnetic brake motor, which is stable, reliable, safe to use and convenient for maintenance. In order to ensure the safety of the flat car, an emergency stop button is installed on the operation button of the flat car, and sound and light alarm devices are installed at both ends of the flat car. The braking system adopts electromagnetic brake, which has the function of automatic braking after power failure. The brake can be released manually to ensure that people can push the flat car to run.
Technical Parameter of the 10 ton railroad electrics trolley:
1. Model: KPD
2. Capacity: 10 Ton
3. Table Size: 2500*1500*400mm
4. Power: Low voltage rail powered
5. Running Speed: 0-20m/min
6. Wheel Diameter: 300mm
7. Color: Customized color, yellow,gray, red, green, blue, etc.
8. Operation Type: Hand Pendant + Remote Control
9. Warranty: 24 months