Workshop 10 Ton Forklift Towing Trailer For Pallet Transfer Exported Cambodia
November 05, 2020
2 sets 10t forklift towing trailer was shipped to Qingdao port, it will be exported to Cambodia, our customer is an end user, the towing trailer will be used in transferring the workshop pallet, the load capacity is required 10 tons, two sets trailers was required to connect together by towing bar, which was towed by forklift. The working efficiency was improved largely by choosing the trailer.
Technical Details
1. Model: BWT
2. Capacity: 10 Ton
3. Table Size: 6500*2200*700mm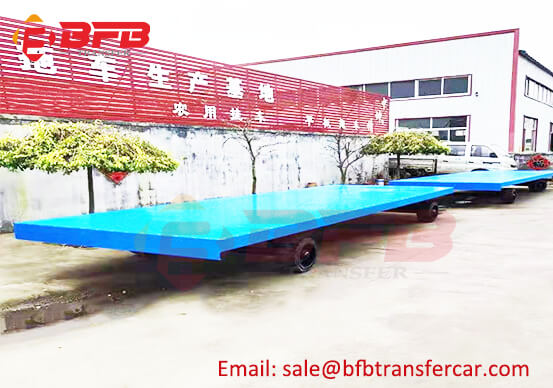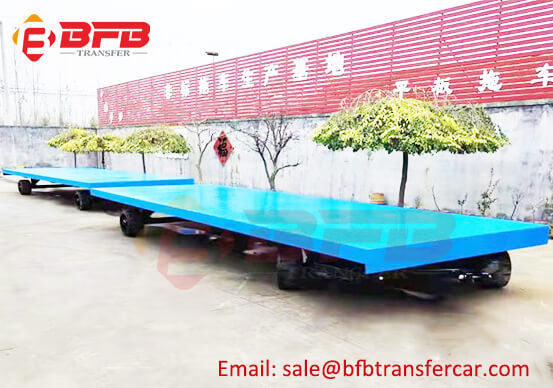 Feature
1. The double spring buffer type traction mechanism has a buffer to avoid damage to the cargo when the vehicle starts or brakes suddenly.
2. The steering mechanism is Shanghai Industrial Machinery Slewing Assembly (Excavator Hook Arm Swing Assembly) for ten years without worrying about damage.
3. The traction cage can be adjusted and fixed up and down, and the traction head or forklift of different tonnage only needs to be adjusted simply when towing.
4. The suspension frame, compared with the traditional hard connection (welding), reduces the long-term stress damage of the car body and has a longer service life.
5. The wheel axle automatically swings and adjusts, and the convex and concave ground ensures that the board surface is level and the tire force is balanced.
6. The front and rear wheel sets can be equipped with spring steel shock absorbers to reduce the damage to the cargo due to bumps
7. It adopts brand engineering solid tires that are recognized by domestic construction vehicles, which have high elasticity and wear resistance.
8. 180-degree slewing frame, minimum turning radius (180-degree turning on the spot)
9. Equipped with universal connector, the operation is very flexible.
Befanby can customized different kinds of trailer, including double traction, guardrail, van, brake system, shock absorption system, awning, rope knotted net, etc. Welcome to inquiry us for more solution.