Transfer Trolley For Coils Handling Moved On Rails Powered By Conductor Rails
August 18, 2020
Generally Speaking, the railway transfer trolley is an electronic material handling tool for coils handling. Such transfer trolley are usually equipped with V-shaped or E-shaped frames on the transfer trolley platform. Those V-shaped or E-shaped frames can protect the coils materials from slipping off the rail transfer trolley. V-shaped frame or E-shaped frame can be divided into two types: movable or non-movable.
BEFANBY always customized manufacture as per our customers' demand, our customer ***Hydraulic company, which is established in July, 2020, They purchase 2 sets transfer trolley for their new workshop coils handling,according to our customers' requirement, the transfer trolley have to meet the demand that 4 pcs coils are transported once time, one coils capacity is about 7 tons, so we designed 30 ton capacity rail transfer trolley. and due to limited trolley size, special frame are designed on the trolley platform,and the low voltage rail type powered was recommended due to high using frequency and long running distance.
About their company, ** hydraulic company, their business scope includes design, processing and production of mechanical equipment and accessories, hydraulic series products; production and sales of metal materials and steel pipes; installation and maintenance of hydraulic machinery and equipment; metal surface treatment and heat treatment; sales of steel, building materials, mechanical equipment and accessories; general roads cargo freight.
Main Technical Parameter Of the transfer trolley for coils handling
1. Model: KPD
2. Capacity: 30 TON
3. Table Size:6000*2200*690mm
4. Running Speed: 0-30m/min
5. Power: Low voltage rail Power
6. Special Design: Customized Table
7. Rail Type: P38
8. Control: Hand Pendant + Remote Control
9. Warranty: 24 Months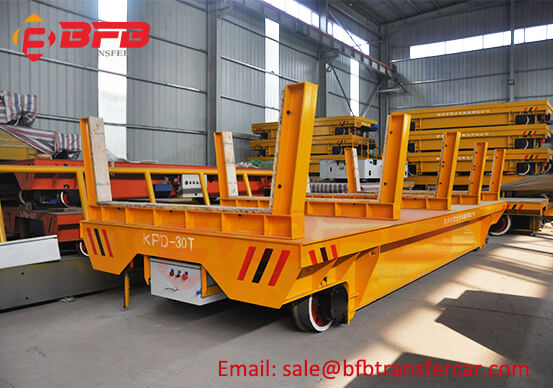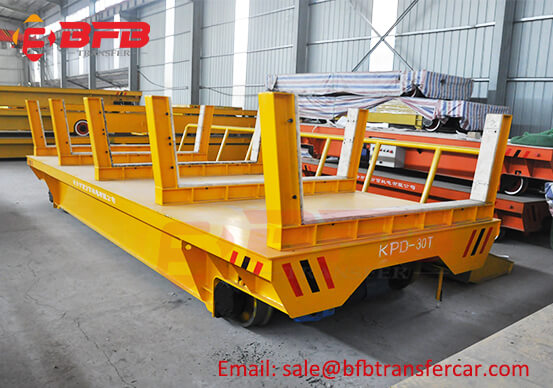 Befanby can customized various transfer trolley as per your working site, please contact us for more customizable solution.