Singapore 10T Remote Control Operated Transfer Carts Agv With Jacks
January 28, 2023
Our client from Singapore ordered 3 sets 10t remote control operated transfer carts agv with jacks, the article will introduce the agv project from background, agv products function introduce and technical parameter, etc.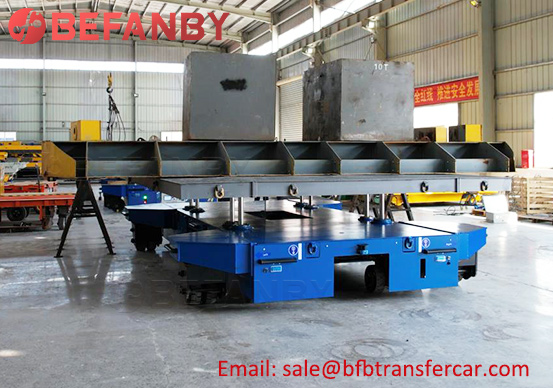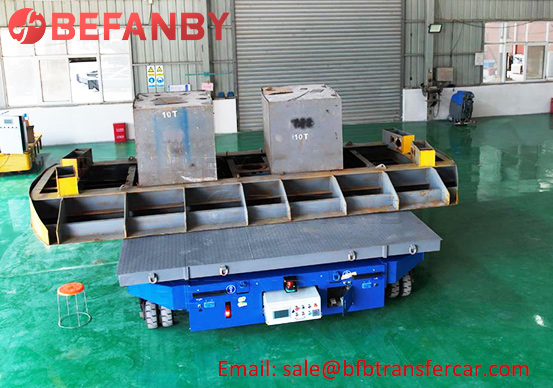 Project background introduction
The single workpiece at the Singapore customer site is relatively large. To facilitate transportation, vertical and horizontal moving vehicles are used. Later, the customer's workpieces will be larger. To facilitate later use, two transfer carts are used to pull larger workpieces. The client had far-reaching plans for the project. The dual-vehicle linkage agv with jacks combines the capabilities of two AGVs, allowing it to efficiently handle heavy loads and navigate difficult terrain while maintaining precise control and stability. Its dual-vehicle linkage agv design ensures enhanced lifting and load-carrying capabilities, making it ideal for industries handling heavy industrial equipment, large containers or heavy-weight pallets. This advanced AGV incorporates innovative sensor technology and smart algorithms, allowing it to seamlessly adapt to a variety of operational requirements. The advantage of the two-vehicle linkage AGV lies in its excellent AGV research and development capabilities. The product uses multiple heavy-duty transport vehicles to double the rated load of the system. After being put into use, the transport AGV product will work more flexibly. According to the needs of different working conditions The needs can be freely combined and can be adapted to the transportation of different types of products.
Project product introduction
The flexible transportation of large equipment, tools, and materials in workshops has always been a difficulty in logistics. The application of two-vehicle linkage AGV in the transportation of heavy loads and ultra-long objects can effectively solve these problems. The two-vehicle linkage AGV technology consists of two laser navigation automatic guided vehicles. The vehicle adopts a three-fulcrum structure, and the power is provided by 150mm drive unit wheels, which can ensure that the vehicle can move forward, backward and sideways. The transfer cart moves through laser navigation sensors to locate the surrounding environment, and the power system is provided by lithium batteries. The above features ensure that the two-vehicle linkage system operates in a coordinated manner and operates smoothly.
The AGV customized by BEFANBY Company has the same functions as ordinary AGV, and can realize forward/reverse/lateral movement/diagonal movement/rotation in place/jacking, etc.
Special part design:
1. If the workpiece is relatively large, a mobile three-color alarm light can be installed on the workpiece. Ensure the safety of workpieces during transportation and also warn others to pay attention to safety. Therefore, we have reserved quick-connect plugs on the electrical box.
2. The structure is four differential servos and four double-row universal wheels, with a shock absorbing mechanism on each wheel. Make the AGV safer and more stable during operation.
3. The customer's site has slopes, both cement/asphalt and metal roads. Expect to travel on cement and typical asphalt roads with surface imperfections and gradient of +/-6 degrees.
4. The method used for two-vehicle linkage is an active and one passive solution. The active transfer cart agv is controlled by remote control, and the passive transfer cart follows the active vehicle to achieve two-vehicle linkage. The purpose of the two-vehicle linkage is to pull larger workpieces. After the two-vehicle linkage, the functions achieved are the same as those of a single-vehicle AGV, including forward/backward/lateral movement/inclined movement/rotation in place/jacking, etc. Accuracy: front, rear, left and right accuracy: 5cm, rotation accuracy: 10cm (actual measurement accuracy: 3cm)
5. Safety system: Led light, Steering Light,Bumper Strip, Sounds&Light Alarm, Checkered Plate,Emergency Stop, Automatic brake system, Smart Charger,Low Power Alarm, With the overload protection, short circuit protection, overvoltage protection, under voltage protection, overcurrent protection, undercurrent protection, etc electric protection function, With the reflective stripe on the trolley body side, etc.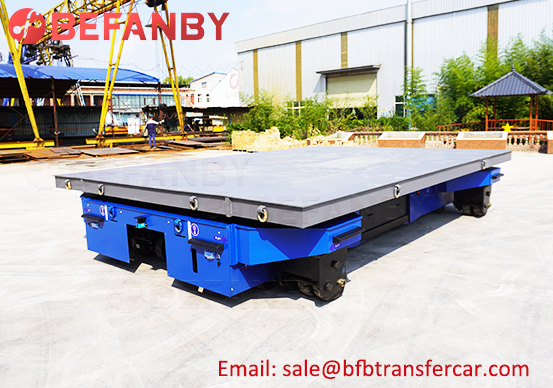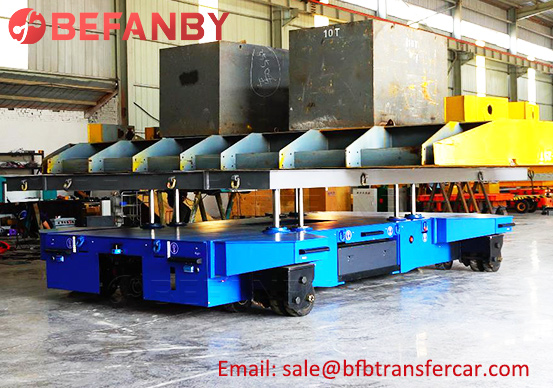 Technical Parameter
Model: AGV
Capacity: 10T
Table Size: 5*36.*0.6m
Lifting Height: 350mm
Power: Battery powered
Running Speed: 0-30m/min
Lifting Speed: 400-500mm/min
BEFANBY can customized different type transfer cart on demands, welcome to contact us for material handling solution.

Video