RGV Electric Wheel Transfer Trolley Platform For Structural Parts Handling
December 18, 2021
3 sets 30 tons electric wheel transfer trolley platform have been tested well on site, which is a manufacturing company for coal machine. The transfer trolleys are specially customized on demand, including plc control system/automated function, turning on rails, hydraulic lifting system, etc., all are customized, as per our customers' introduction, the transfer trolley will handle the structural parts from one workshop to another, from indoor to outdoor, and then indoor. The working time is about 4 hours. Therefore, we suggested the battery powered transfer trolley to them And it worked well on site, so got good praise from them, Thank you for reliance for our BEFANY company.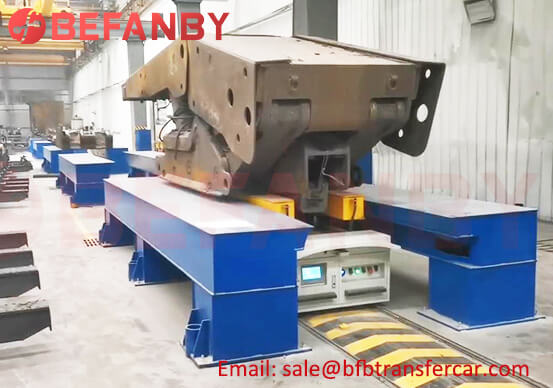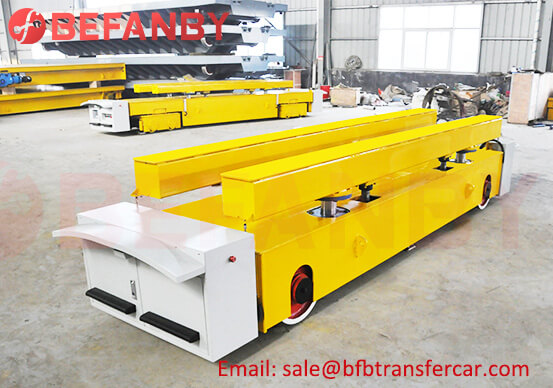 Technical Parameter:
1. Model: KPX
2. Capacity: 30 Ton
3. Table Size: 3500*950*750mm
4. Running Speed: 0-25m/min
5. Running Distance: 84m
6. Rail Model: P38
7. Operation: Hand Pendant + Remote Control
Customer Company Introduce:
Zhengzhou Coal *** Machine Co., Ltd specializes in the design, manufacture and overhaul of coal mine fully mechanized mining equipment and accessories. The annual output value has exceeded 1 billion yuan for many years. It is the main designated production unit of coal mine fully mechanized mining equipment and accessories in China. The flagship enterprise of support equipment accessories manufacturing and support overhaul in China's coal industry.
BEFANBY can customized different type transfer cart on demand, welcome to contact us for more material handling solution.