12T RGV Industrial Robot Automatic Transfer Cart For Pallet Transport
January 10, 2022
RGV is the English abbreviation of Rail Guided Vehicle, industrial robot automatic transfer cart, RGV can be used in various high-density storage warehouses. Cart aisles can be designed to be arbitrarily long to increase the storage capacity of the entire warehouse. And during operation, there is no need for a forklift to drive into the roadway, so it is safer. Using a forklift without entering the roadway, the advantage of the cart traveling fast in the roadway improves the operational efficiency of the warehouse.
This project uses the RGV and WMS system to connect with the enterprise's ERP to realize real-time interaction of enterprise data and information, and to understand and master the status of material information at any time. Through the control of the computer management system, it can realize accurate weighing detection management, material packaging and palletizing information collection management, material information status management and inventory database management; Automatic weighing and repeating core, automatic palletizing of palletizing manipulators, barcode scanning system to collect data, conveyor, RGV, elevator equipment to realize automatic equipment in and out of the warehouse.
The RGV includes a drive unit fixed on the body of the RGV, the drive unit has a drive wheel, a drive bracket and a power unit, the drive wheel is fixed on the power unit, and the power unit is fixed on the power unit. The bracket fixes the driving bracket on the main body of the RGV trolley. The driving wheel contacts the guide rail platform and rotates under the drive of the power unit, which drives the RGV trolley to move on the guide rail platform. The friction driving force generated by the rotation.
RGV has opened up the information link from production and packaging to warehouse management, and realized from production and packaging to warehouse management, informatization and automation, and realized the automation and seamless connection of production process. The entire production process is controlled by computer management system, which is automated and unmanned It realizes the traceability of product information, the monitoring of product status, the sharing of information resources, the reduction of error rates, the improvement of production efficiency, and the reduction of production costs.
Technical Parameter:
1. Model: KPT, RGV
2. Capacity: 12T
3. Power: Cable Powered
4. Table Size: 2000*15000*650mm
5. Running Distance: 30m
6. Rail Type: P8
7. Transport Material: Pallet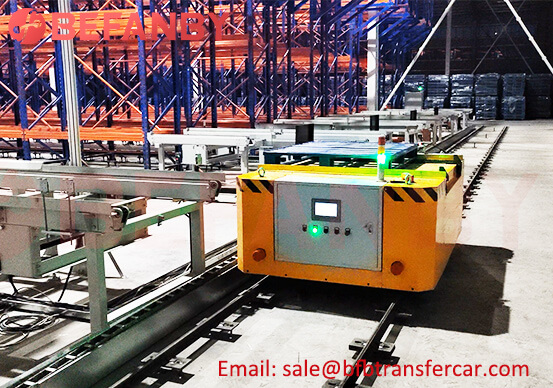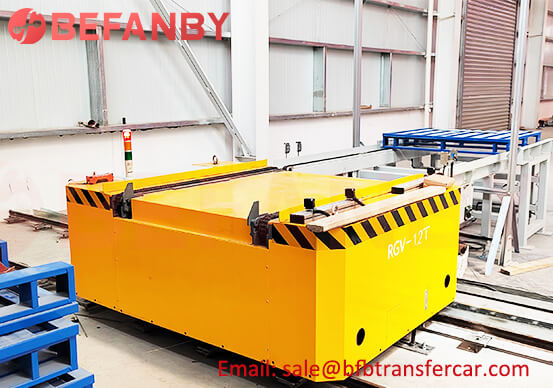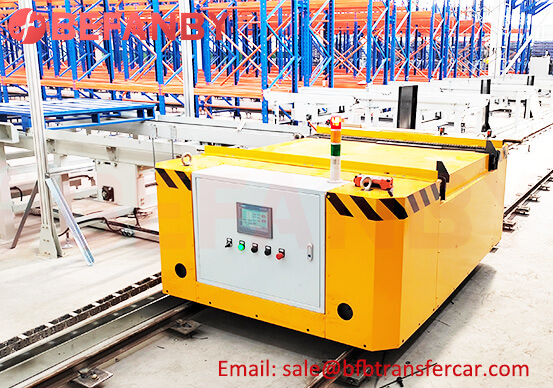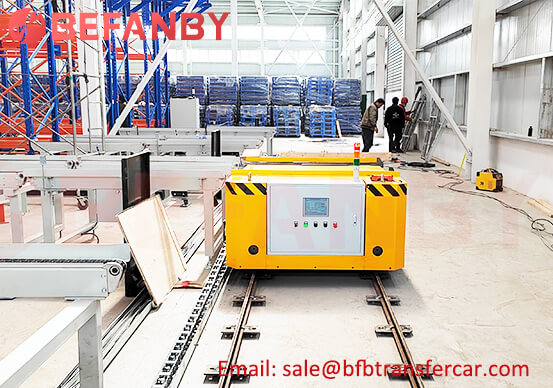 Befanby can customized different type transfer cart on demand, welcome to contact us for more material handling solution!