Motorized 45 Ton Steel Coil Flat Bed Trailer Coil Trailer For Workshop Transfer
May 10, 2019
As the name suggests, the coil trailer is an electric flat cart that solves heavy coils in workshops and factories. Some coils weigh a few tons to hundreds of tons. The traditional forklift solutions are far from meeting actual demands.
At this time, due to its sturdy structure, the electric coil trailer can withstand the transportation of hundreds of tons of coils, and the transportation is stable, safe and reliable. It is widely used in the transportation of heavy goods in the factory floor.
The steel coil flat bed trailer coil trailer uses the on-board battery under the electric transfer cart as a power source, and controls the forward and reverse rotation of the DC traction motor through the DC control system, and relies on the reducer to drive the wheels to make the electric transfer cart start, stop, forward, reverse, accelerate, decelerate, etc. . A V-shaped bracket is installed on the table of the electric flat bed trailer to prevent the columnar cargo from rolling off the car.
Common types of coiled materials are: steel coils, aluminum coils, steel pipes, cable reels or tires, etc., to transport such cylindrical workpieces, in order to avoid the workpiece shaking during transportation, a V/U frame is added to the flat cart table to fix it. The position of the workpiece can achieve the goal of safe production.
The V/U frame fixed on the electric transfer cart determines the separation distance and quantity according to the size of the workpiece and the number of single transportation. The user informs us the size of the workpiece, and our technicians can design a solution that satisfies the user. The V/U frame of the coil car can be selected: the adjustable distance V frame and the fixed V frame welded to the table.
BEFANBY can customized different coil flat bed trailer on demands. Contact with us for more details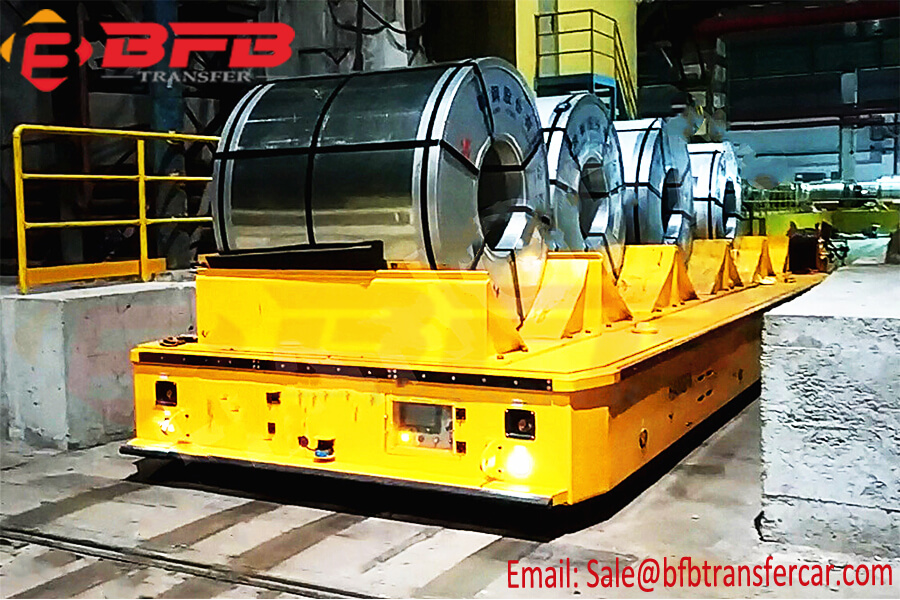 Technical Details Of Steel Coil Flat Bed Trailer:
1. Model: BWP
2. Capacity: 45 Ton
3. Table Size: 5800*2200*750mm
4. Power: Battery Powered
5. Using Site: 4 pcs coils was transported together once time
6. Operation: Hand Pendant + Remote Control