KPF Diesel Driven 60 Ton Ladle Transport Trolley Cart On Curved Rails Indoor Outdoor Transfer
September 29, 2020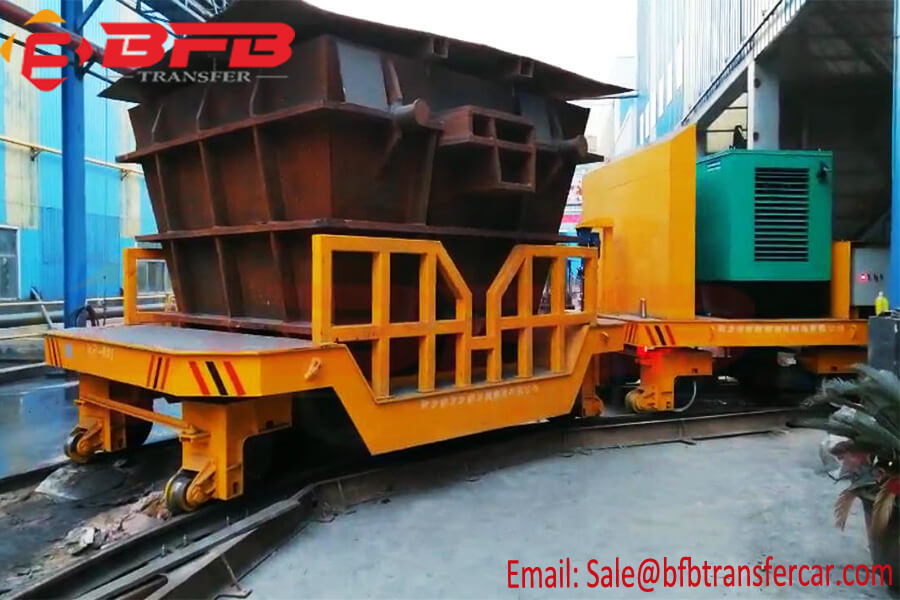 2 sets ladle transport trolley carts had been delivered to customers' site,due to high using frequency, long running distance and high temperature working environment, finally the material handling solution of diesels powered and no powered rail transport cart was designed and get agreement from our clients. The diesel powered transport trolley mainly for towing the no powered transport cart on curved rails, and the no powered transport trolley is mainly for transferring the high temperature hot melt ladle between plant.
What's more, the rail transport trolley moved on the rails which makes the operation easier and safer, and compared with the trackless transport cart, the rail type is more cheaper than the trackless one.
Main feature of the ladle transport trolley cart:
Ladle transport cart have higher requirements for high temperature, and have higher requirements on body materials, transmission systems and electrical control than ordinary transport trolleys. In order to reduce the splash of molten steel or steel slag due to inertia, the traction motor of the ladle transfer cart is designed to start and stop slowly; the cart body is equipped with heat insulation material to prevent the package body from being exposed to high temperature radiation. The drive of the ladle transfer cart is divided into electric single-drive and electric double-drive, but in order to better ensure the transportation of molten steel, a dual-drive system is generally adopted. Once one set of lifting systems fails, the other set can also guarantee the completion of a process cycle.
Technical Parameter of Diesel Driven Ladle transport trolley:
1. Model: KPF
2. Capacity: 60 TON
3. Table Size: 3400*3000*1000mm
4. Power: Diesel Powered
5. Running Speed: 0-50m/min
6. Wheel Dia.:500mm
7. Turning Radius: 8000m
8. Operation Type: Hand Pendant + Remote Control
Technical Parameter of No Powered Ladle transport cart:
1. Model: KP
2. Capacity: 60 TON
3. Table Size: 5300*3400*1000mm
4. Power: Non Powered
5. Table Structure: Customized table structure,curved hollow type
6. Running Speed: 0-50m/min
7. Wheel Dia.:500mm
8. Turning Radius: 8000m
9. Rail Model: P50
10. Color: Yellow
11. Warranty: 2 years