Iraq Railroad 20 Ton Battery Transfer Flatbed Trolley For Transport Gate On Dam
April 30, 2020
4 sets KPX 20 ton flatbed trolley was exported to Iraq from Qingdao Port, and get wonderful assessment from our customer then sent video to us show their battery transfer trolley. As per the discussion with our client, the transfer trolley was used in outdoor, and the railroad transfer trolley was used in transporting the gate on dam, due to large work piece size, two transfer trolley can be connected together by towing bar to transport one gate, by operating one wireless control, these four transfer trolleys can run together.
About the motor, BEFANBY use XQ series DC traction motors. This series of motors has a wide range of speed regulation, smooth speed regulation characteristics, strong overload capacity, large starting and braking torques, low energy loss during speed regulation, and easy control. High reliability. The reducer adopts the heavy-duty standard of the lifting and transportation industry, and is dedicated for hard-tooth flatbed trolleys, with compact structure, high reliability, good versatility, and easy installation and maintenance. The gears are all made by carburizing, quenching and tooth grinding.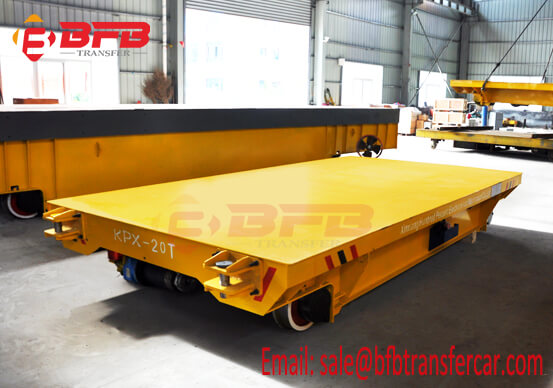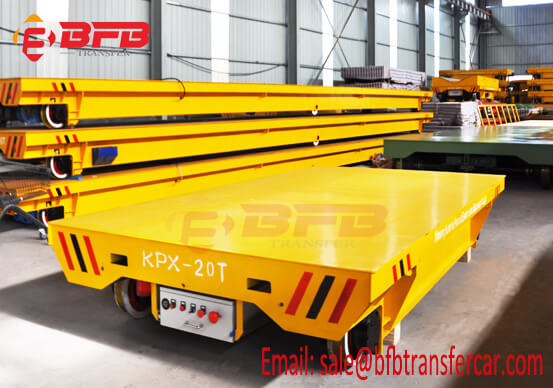 About the fully automatic smart charger. One-key operation, full automatic power off. The charger has a staged quasi-constant voltage and constant current automatic charging function. Its charging curve is fully in line with the charging characteristics of lead-acid batteries, and it has perfect protection functions such as short circuit, over current, battery reverse connection, and no-load, resulting in the above failures. The machine can automatically stop charging for any item, effectively protecting the charger and user equipment.
Technical Parameter of Battery Transfer Trolley:
1. Model: KPX
2. Power: Battery Powered
3. Capacity: 20 Ton
4. Table Size: 4000*2200*600mm
5. Running Speed: 100m
6. Rail Type: P24
7. Control: Hand Pendant + Remote Control
8. Certification: Hand Pendant + Remote Control
9. Warranty: 24 months
BEFANBY can customized manufacture the material handling equipment as per your working site, welcome to contact with us for more details.