Electrical Industry Trackless Transfer Trolley 20 Ton With Lifting System On Floor
June 17, 2019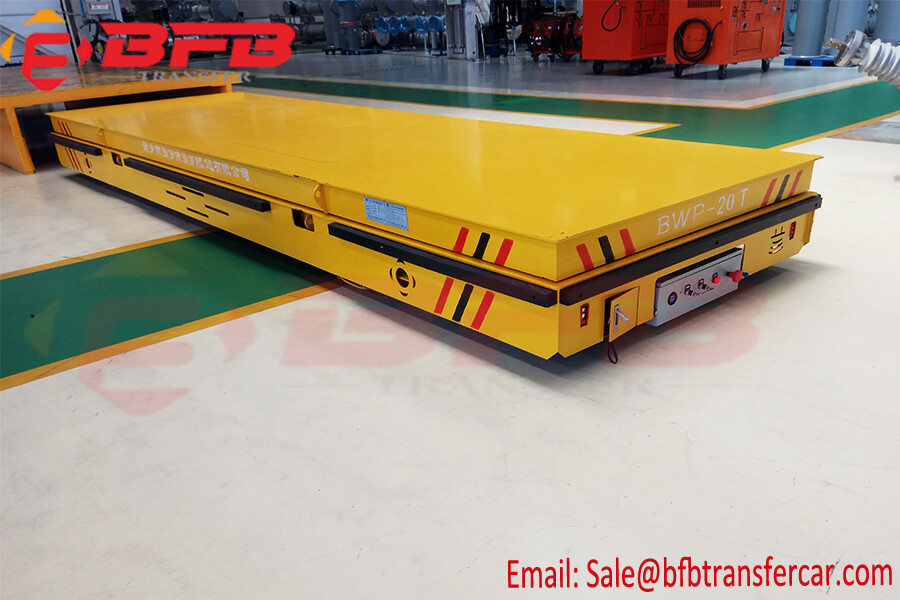 The trackless transfer trolley with lifting system consists of a frame, wheels, drive system, hydraulic system and safety device. The hydraulically steered trackless transfer trolley has the advantages of precise steering angle and easy operation, but due to the hydraulic connecting rod, the turning radius is slightly larger. The hydraulic device can also be used for the lifting function of the trolley, to realize the movement of the vehicle platform to meet the needs of some specific working conditions.
There are two types of wheels: polyurethane wheels and press-fit wheels. Polyurethane wheels are suitable for polyurethane ground and cement ground, and press-fit wheels are suitable for asphalt ground.
Working condition description: Place the bracket with regular workpieces at the designated feeding point and position, manually operate the trackless electric transfer trolley to run under the bracket, the automatic jacking device will lift the bracket 50mm from the ground, and the trackless transfer trolley carries a belt The trolley of the workpiece runs smoothly to the required designated unloading point. After the automatic landing and jacking device of the trackless transfer trolley touches the ground and stabilizes the carriage, the trackless transfer trolley moves away from the carriage, and the transfer process is completed.
Technical Parameter of The Trackless Transfer Trolley:
1. Model: BWP
2. Capacity: 20 Tons
3. Table Size: 6000*1800*600mm
4. Lifting Height: 100mm
5. Power: Battery Powered
6. Running Speed: 0-20m/min
7. Wheel Diameter: 400mm
8. Motor: DC motor, Double Motor
9. Operation Type: Hand Pendant + Remote Control
10. Warranty: 2 Years