KPDZ Automatic Motorized Rail Transfer Car For 10T Cable Drum Transportation
June 21, 2019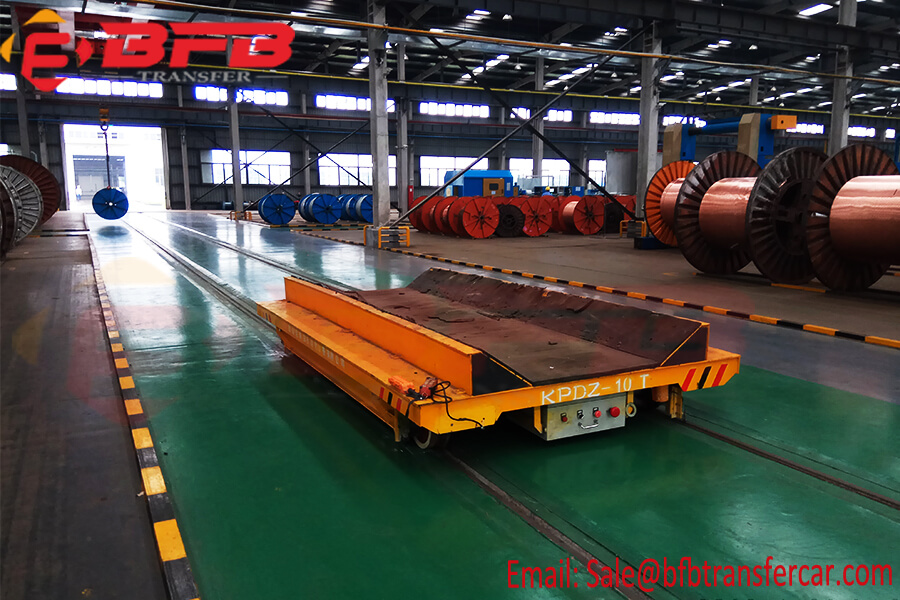 Our customer place the order for 2 unites motorized rail transfer car for workshop 10t cable drum transportation,due to the drum is cylinder type, so the V type frame was equipped on the transfer car to protect the safety of the drum from slipping, and the black rubber mat also placed on the cart frame to prevent slipping, double protection to make the transportation safer. the running distance is 80m, and the using frequency is more than 5 hours, the low voltage rail type was recommended as our customers material handling solution.
The low voltage rail powered transfer car is mainly not powered by cables which makes the operation more convenient. This series of low voltage rail powered transfer car is suitable for insulated rail power supply, low load and high frequency of use.
It can be used in S-shaped rails, arc shaped rails and high temperature occasions, and can also be equipped with hydraulic lifting system on rail transfer car. The rail transfer car can realize soft start, avoid the emergency brake of the common rail transfer car, and protect the safety of the transported workpieces and operators to a certain extent.
Technical Parameter of the motorized rail transfer car:
1. Model: KPDZ
2. Load: 10T
3. Table Site: 3500*2000*500mm
4. Purchase QTY: 2 Sets
5. Color: Yellow
6. Rail Guidance: Rail Construction and installation drawing was sent While Shipping.
7. Warranty: 2 years