Electric Railway Coil Transfer Car 25 Ton For Galvanized Coil Transportation
April 21, 2020
Our customer purchased 1 set coil transfer car 25 ton for galvanized coil transportation, our customer is a factory manufactured galvanized product, one pcs galavanized coil was transported on the transfer car, the transfer car need to worked more than 8 hours per day, the running distance is 80m, considering cross bay working site, Befanby designed the low voltage rail powered coil transfer car, and the V frame was installed on the cart to protect the coil and we added the rubber pad on the V frame to make ther transportation safer. What's more, the V frame was fixed by the bolt, it can be dismounted from the transfer car when you don't use the V frame, which makes the transfer car multifunctional.
About the Low voltage rail Installed Requirement:
The track is used as a conductor to supply power to the vehicle, so the insulation between the track and the ground is required to avoid a short circuit that affects the normal use of the vehicle. The raw materials required for track laying: cement, sand, stone, track, track accessories, resin or linoleum, compensation copper Row level meter, hand electric drill and other tools.
1. Use a level to find the leveling layer on the track load-bearing beam on the ground, and use cement to make sure that all the tracks are on a level surface, and calculate the height of the corresponding track. After the construction is completed, the upper plane of the track The gap with the ground.
2. Use linoleum or resin between the track and the ground beam to ensure the insulation of the track. And put the buried bolts in the reserved holes of the ground beam and use sand ash to solidify on both sides of the track, the bolts and The distance of the track depends on the specification of the track pressure plate.
3. Determine the center distance and inner distance of the track to lock the bolts, and fix the copper bar on the inner side of the track.
4. Use asphalt or resin to completely cover the copper busbars on the inner side of the track.
Note: When laying low-voltage insulated tracks outdoors, attention should be paid to the treatment of stagnant water to prevent excessive stagnant water from causing short circuits in the track and affecting the normal use of the transfer car.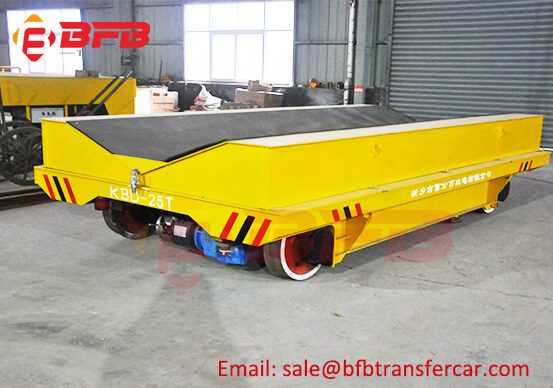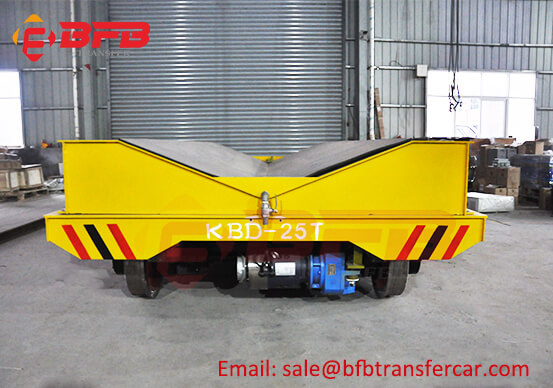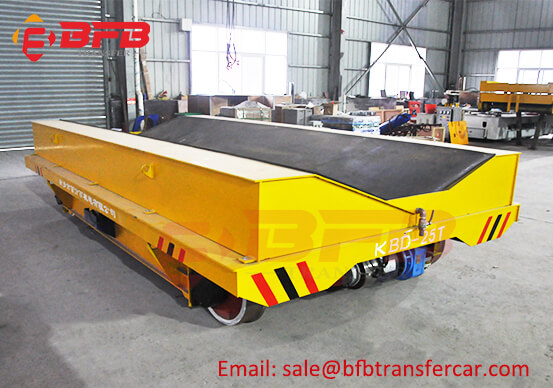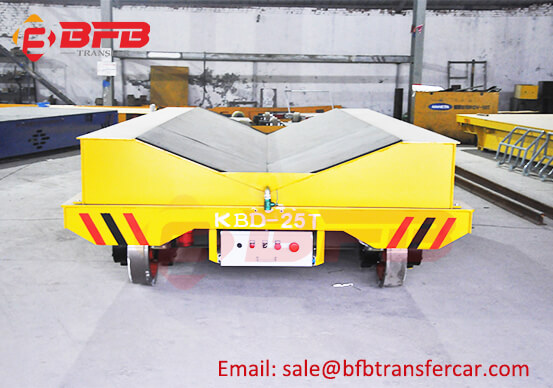 Technical Parameter of the Coil Transfer Car:
1. Model: KPD
2. Capacity:25 ton
3. Power: low voltage rail powered
4. Table Size: 4000*2000*600mm
5. Rail Type: P24
Welcome to contact with us for more material handling solution.