Customized Overlength Heavy Duty Flat Transfer Trolley 10T Outdoor Handler
December 27, 2019
1 set overlength heavy duty flat transfer trolley was sent to our customers' site for outdoor transportation from one workshop to another, which is our customized product that the total length reach to 200000mm. The trackless transfer trolley is a battery powered vehicle, which move on asphalt road, by wireless remote controlled, the transfer trolley can went everywhere on requirement.
Technical Details:
1. Model: BWP
2. Capacity: 10 Ton
3. Table Size: 20000*3000*600mm
4. Power: Battery Powered
5. Running Speed: 0-35m/min
6. Wheel Type: Polyurethane Wheel
7. Safe System: E-stop, Dead man stop, Sound and light alarm, etc.
8. Operation: Hand Pendant + Remote Control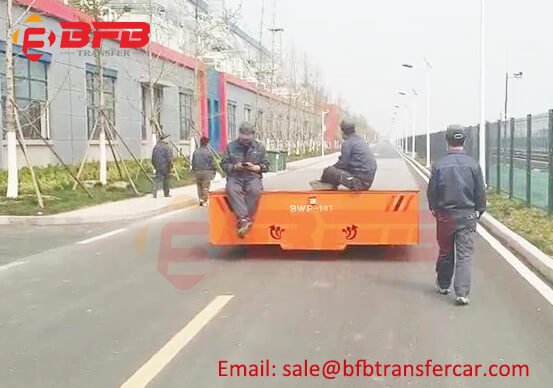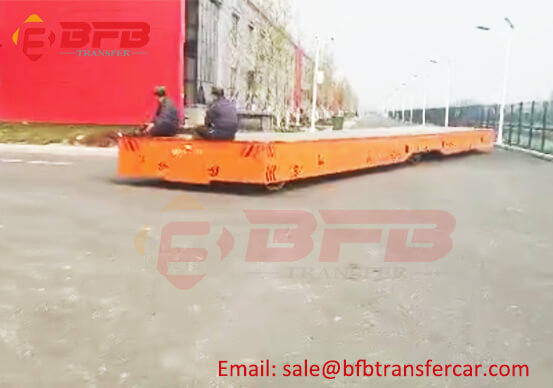 Hebei *** Co., Ltd, In response to the "Made in China 2025" development plan, assisting the construction of Beijing-Tianjin-Hebei rail transit, promoting the development of high-end rail transit manufacturing and strategic emerging industries, and responding to the central government's requirements for deepening the coordinated development of Beijing-Tianjin-Hebei and Baoding's acceptance of Beijing's non-capital functions , An important measure to serve the Xiongan New Area. The company is committed to building a garden-style intelligent manufacturing factory that is leading domestically and first-class abroad, modernized, internationalized, intelligent, and high-end diversified. The company's business scope covers the research and development of rail transit equipment and components such as urban rail transit vehicles, maglev vehicles, intercity vehicles, high-speed rail vehicles, railway rolling stock, new urban rail transit vehicles, low-floor trams, rail engineering machinery and maintenance machinery. , Design, manufacturing, repair, sales, operation and maintenance, leasing and technical services and technical consulting in related fields.
BEEFANBY can customized different type transfer cart on demands, welcome to contact with us for more details.