40T Electrically Driven Pipe Transfer Trolley For Transporting Steel Pipes Between Production Line
December 23, 2019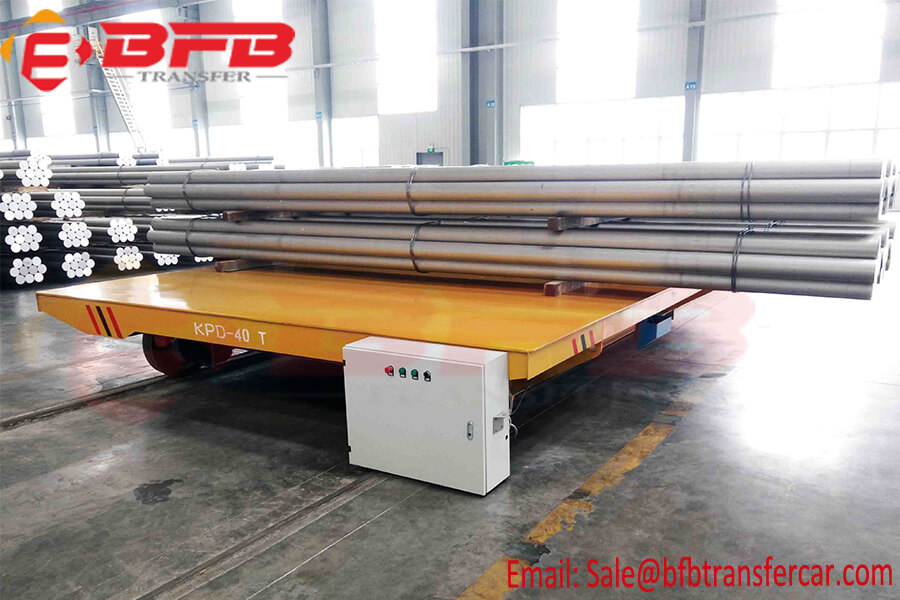 A steel pipe transfer trolley in a factory can not only ensure the carrying strength, but also ensure the stability of the steel pipe during the carrying process. Simply speaking, It includes a moving component and a carrying component. The moving component includes traveling wheels fixed on both sides of the bottom plate and steering wheels fixed on the front and rear ends of the bottom plate. The carrying component includes a carrying plate fixed on the bottom plate by a shock-absorbing support column. Extension plates inclined downward are fixed at the front and rear ends of the plate. With this arrangement, the steel pipe transfer vehicle for a factory of the present invention can still ensure driving stability after a certain amount of steel pipes are installed. The downwardly inclined extension plates are fixed at the front and rear ends of the carrying plate to support the steel pipe when carrying a long thin steel pipe, so that the steel pipe will not sag and drag the ground.
About the electrically driven transfer trolley, it is a new tendency between production line, workshop material handling which can replace the forklift to make transportation, which can not only reduce the worker cost, but make the transportation more environment and high efficient.
You can consider the transfer trolley if your workshop still use the forklift, it can reduce cost more. Contact us, Befanby will tell you more.
Technical Parameter of Pipe Transfer Trolley:
1. Model: KPD
2. Capacity: 40 Ton
3. Table Size: 5000*4000*650mm
4. Wheel: 500mm
5. Rail Type: P45
6. Operation: Hand Pendant + Remote Control
7. Warranty: 2 years