Battery Power Befanby Transport Trolley For 10 Tons Roll
March 04, 2022
Our client ordered 3 sets 10 tons transport trolley from Guangdong province with a long-term partnership.
This trackless transport trolley project is equipped with slats of tooling on the table, which requires the flatness of the table and reserves the installation position of the tooling screw holes. The installation size of the tooling is generally provided by Party A.
The transport trolley is equipped with a screw rod outrigger height-adjusting and leveling device. The screw rod legs are arranged on both sides of the trolley. When it is close to the material connection position, the outrigger supports the ground to lift the cart platform, and then adjust it to a suitable height. Carry out material connection.
The main advantages of the device are:
1. The height adjustment is convenient and quick;
2. The outrigger supports the ground frame with full load without sinking;
3. The outrigger supports the ground firmly without shaking;
4. The screw height and leveling device can adjust the height from 0 to 100mm.
At present, the trackless transport trolley has been transported to the factory area and passed the acceptance work smoothly. The safety induction device adopts SICK series products to ensure safe working condition. The factory area has a small slope of 3%, and it is easy to climb the slope. The equipment is full of praise, saying that we will promote our equipment to cooperative units in the future.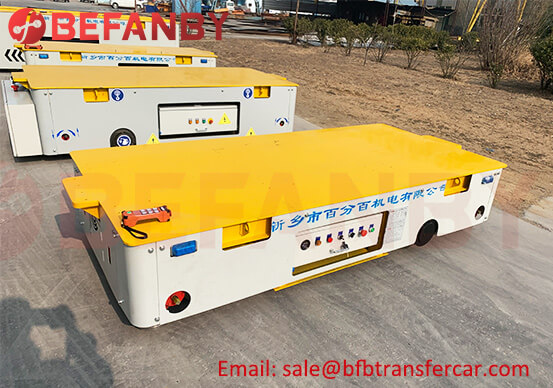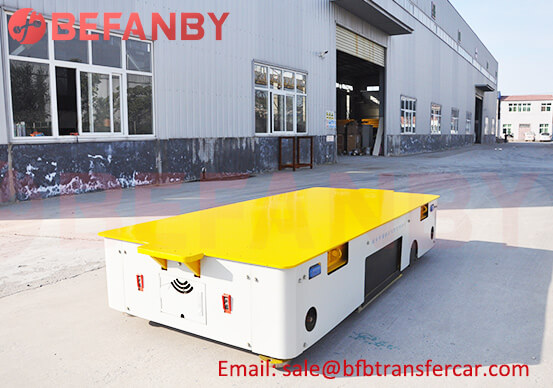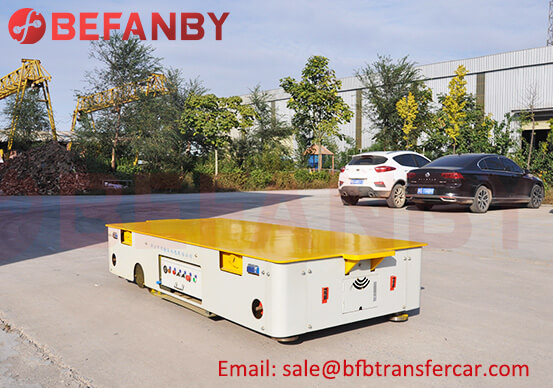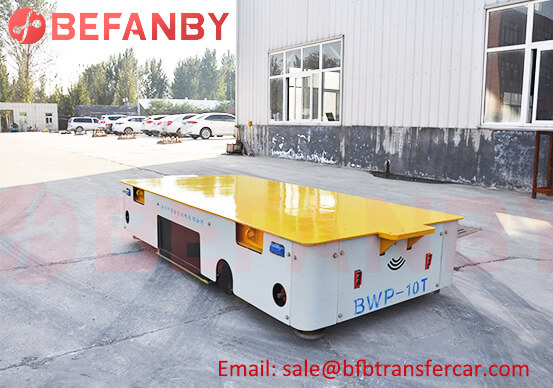 Technical Parameter
1. Capacity: 10T
2. Power: Battery powered
3. Table Size: 2800*12000*585mm
4. Turning Radius: Less Than 2810mm
5. Operation: Hand Pendant + Remote Control
6. Floor: Epoxy Floor
BEFANBY can customized different transfer cart on demand, welcome to contact us for more material handling solution.