Customized 50 Tons Rail Power Transfer Cart For Ladle Cleaning
March 03, 2022
When it comes to cleaning, everyone will think of water flushing, or spraying with chemical solvents, etc. However, ladle cleaning is not what we imagined. Since the ladle carries high-temperature molten steel, the steel slag remaining on the ladle arm needs special cleaning. Utensils can be cleaned.
For this project, Xinxiang Hundred Percent Electrical And Mechanical Co., Ltd. and Zhengzhou ** Company jointly developed a rail transfer cart for ladle cleaning.
A turntable is additionally designed and installed on the platform of this rail transfer cart. The speed of the turntable can be adjusted according to the supporting cleaning equipment. Since the high-frequency vibration of the cleaning equipment has a great influence on the drive components of the turntable, a special design for cushioning has been made.
Technical Parameter of rail power transfer cart:
1. Model: KPD
2. Power: Low voltage rail powered
3. Capacity: 50 tons
4. Table Size: 7000*3000*950mm
5. Running Speed: 0-10m/min
6. Running Distance: 16m
7. Operation: Hand Pendant + Remote Control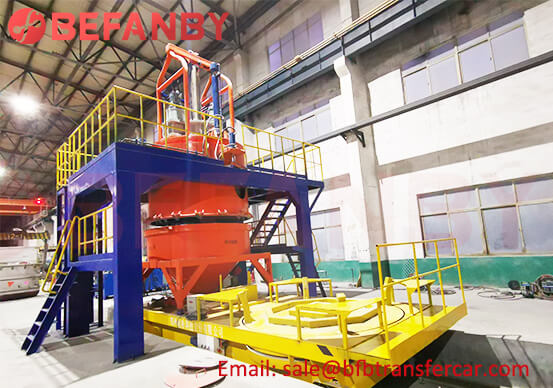 At present, three set rail transfer carts of this model have been put into practical application, and the feedback from customers is good. The order for three new sets is in the process of production. Welcome to Interested friends inquiry us to communicate and learn.