5T Rail Electric Flatbed Trolley With 3D Printing Technology
July 31, 2021
3D printing (3DP) is the development of modern society. It is a rapid prototyping technology, also known as additive manufacturing. way to construct objects.
The combined application of 3D printing technology and rail electric flatbed trolleys has also been gradually developed. Our factory cooperates with Xi'an *** Technology Co., Ltd. to produce batches of rail transfer trolleys, which have gradually become a local favorite.
The rail electric flatbed trolley that cooperates with 3D printing technology requires a relatively high precision of the table surface of the transfer trolley, but there will be a small amount of variables in the welding process of ordinary steel plate materials, which cannot be well matched with 3D printing. Install a cast iron platform or use a 40mm thick stainless steel plate, which is processed by milling to ensure that the table top is of secondary precision.
Due to the application of 3D printing technology, the number of wheels of the rail electric transfer trolley needs to be increased to 8 to 10 pcs, in order to meet the requirements of the rail electric transfer trolley to pass the ditch, the span of the ditch can be 200-300mm, the motor reducer adopts servo motor or higher A brand with a higher level of precision, and stainless steel tanks are installed on both sides of the trolley body to collect dust during the 3D printing process.
Technical Parameter:
1. Model: KPT
2. Capacity: 5 Tons
3. Table Size: 2700*5200*400mm
4. Qty.: 2 Sets
5. Power: Cable Powered
6. Operation: Hand Pendant + Remote Control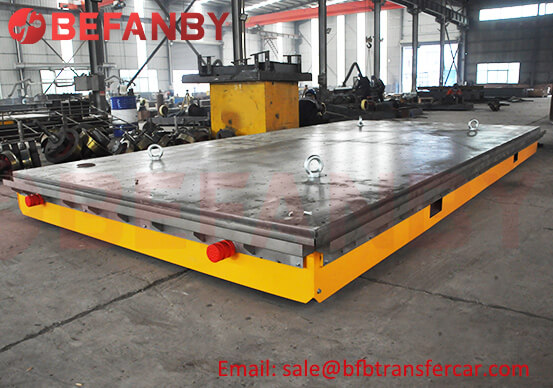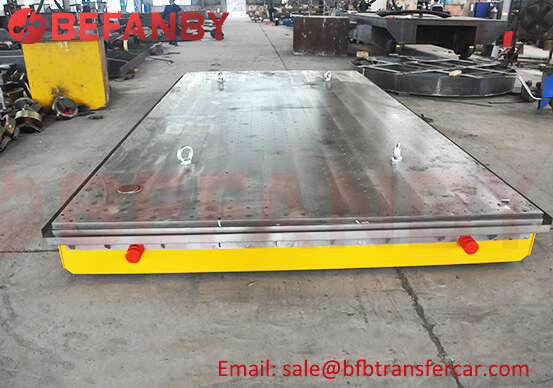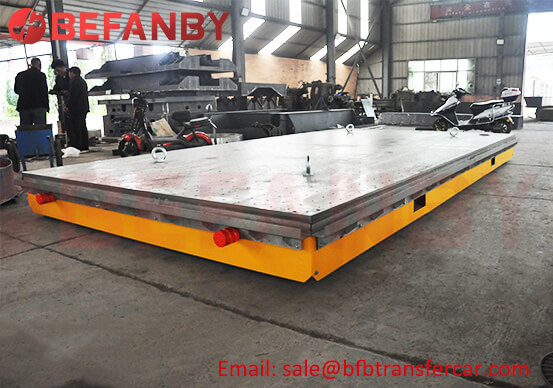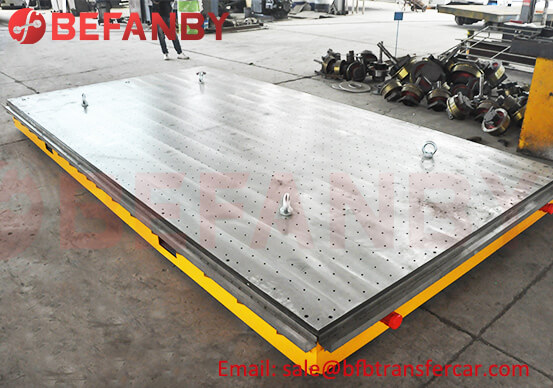 This product has been processed and produced by multiple units, and has reached a mature level of experience, which can be processed faster and better.
BEFANBY can customized different type transfer cart on demand, welcome to contact us for more material handling solution!