3T RGV Rail Transfer Carts Solution For Production Line
May 10, 2023
The project introduced this time is 20 sets RGV rail transfer carts ordered by our customers in Anhui. Next, I will let you know about our RGV project in an all-round way from the project working conditions, project technical parameter, project video, RGV industry application, etc.
1. RGV project introduction
The 20 sets rgv rail transfer carts ordered by our customer are used in 20 pcs production lines and 3 pcs workshops in the customer's factory, with a total running distance of more than 1,000 meters. The tonnage and size of different production lines are different, including 3 tons, 4.5 tons, and 9 tons. It adopts low-voltage rail power supply, the table has roller conveying and chain conveying, and there are single station and three station, a total of three models, adopts automatic PLC control, automatic deceleration and stop when in place, adopts encoder and photoelectric dual positioning method, which is more guaranteed. The conveying workpiece is an aluminum alloy profile with a frame, which is automatically docked to complete the conveying and transportation.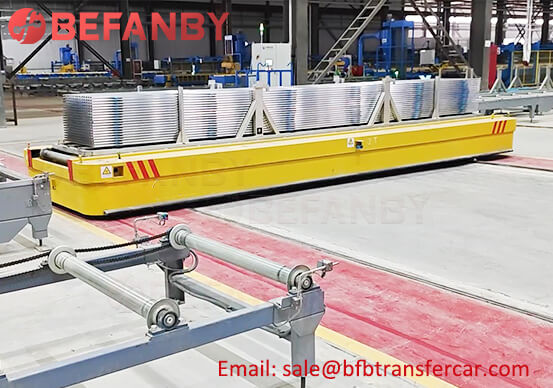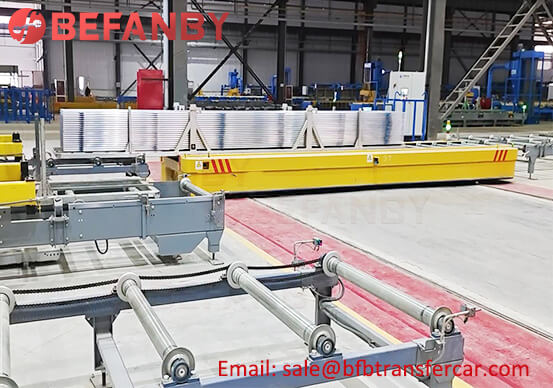 2. RGV Project Technical Parameters
Model: KPD
Capacity:3t, 4.5t,9t
Table Size: 4500*1480*500mm, 1800*6500*500,4000*6500*500mm
Power: Low Voltage Rail Powered
Running Speed:0-30m/min
Conveying: Roller Conveying And Chain Conveying
Function: Automatic Conveying, Automatic Stop, PLC system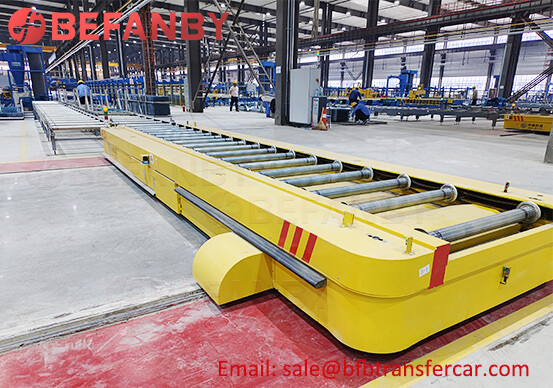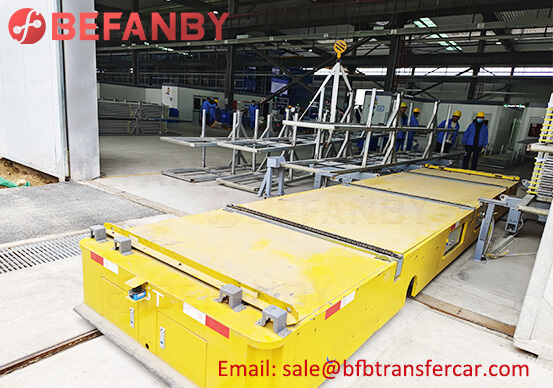 Roller Conveying Chain Conveying
3. Project Video
4. RGV Industry Application
Recently, more and more enterprises have begun to choose to use RGV rail transfer carts for logistics transportation and automatic production line operations. This kind of rail transfer cart usually consists of a series of car bodies, which are transported along fixed guide rails and can carry different goods, from light and small items to heavy machinery and equipment.
The application scenarios of RGV rail guided vehicles are very wide. For example, in large-scale manufacturing enterprises, it can be used to directly transport raw materials from warehouses to production lines, and at the same time, it can also transport finished products from production lines to warehouses, reducing manual handling and improving production efficiency.
In high-rise warehouses, RGV rail guided vehicles also have important applications, which can remove goods from different shelves and transport them to other places, greatly improving work efficiency. In pharmaceutical companies, RGV rail transfer carts can also play an important role, and can be used to take out medicines from different warehouses and transport key items such as medical equipment. At the same time, RGV rail transfer carts can also be used for Taobao and e-commerce logistics, reducing manual handling and improving order processing efficiency.
Compared with traditional logistics transportation methods, RGV rail transfer carts have many unique advantages. On the one hand, due to the use of guide rails for transportation, the speed and stability of transportation can be guaranteed, and the damage to goods caused by bumps in the transportation process can be avoided. On the other hand, RGV rail transfer carts can run automatically, reducing manual intervention and improving the safety and reliability of transportation.
In addition, the RGV rail transfer carts also has the characteristics of modularization, which can be customized according to different customer needs. For example, the length and height of the car body can be adjusted according to the size and quantity of the goods, and it can also be replaced and upgraded according to different production environments.
In general, RGV rail guided vehicles have a wide range of application scenarios and can be used in many fields such as manufacturing, warehousing and logistics, and medical care. It not only improves production efficiency and shipping speed, but also reduces costs and human intervention. With the continuous advancement of future technology, it is believed that RGV rail transfer carts will play a more important role in more fields.
Finally, BEFANBY can customized different type material handling solution on demand from different industries, welcome to contact us for more material handling solutions.