500KG Lifting Automatic Electric Rail Transfer Trolley Factory
May 14, 2023
The rail transfer trolley order is the third time from our customer, They ordered 6 sets lifting automatic electric rail transfer trolleys.
This article will introduce this project in detail.
Customer profile:
Our customer is an automobile production factory, and they need to paint the front shell of the truck during the production process. In order to further expand the production scale, the customer built 3 new production lines. The automatic electric rail transfer trolley produced by BEFANBY is used in the customer's new automated production line to connect with the spraying station. Customers introduce automation equipment to improve work efficiency and reduce costs.
Challenge description:
During the working process of the spraying line, the truck head shell is moved to the spraying station for spraying. The hoisting is very troublesome and the safety and accuracy are affected. More importantly, the hoisting must be performed by professionals. More cumbersome and dangerous, and the cost is high.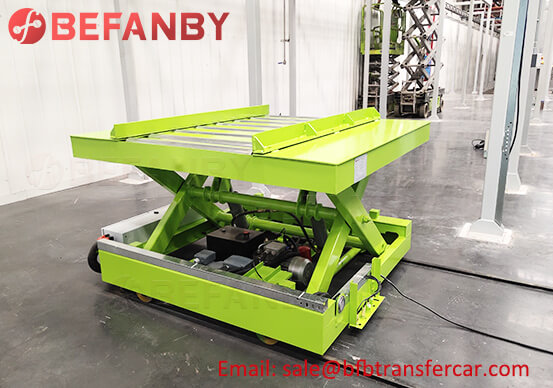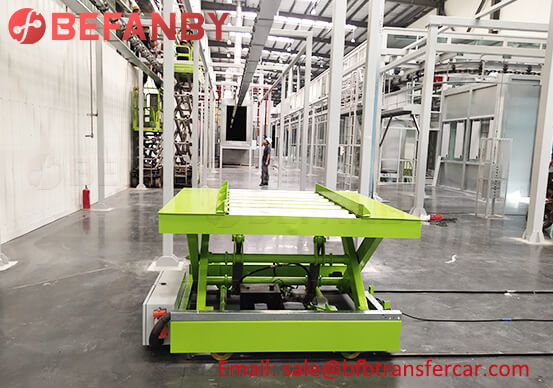 Solution:
We provided customers with 6 sets of 500kgrgv automatic electric rail transfer trolleys as a solution. for different work positions. These automatic electric rail transfer trolley can run automatically under the condition of tow cable power supply, and each car can travel up to 50 meters. There are unpowered roller tables on the table, which can automatically stop and reach the specified station, and can lift the workpiece by 500mm for roller table docking. These devices can complete the handling work fully automatically, which greatly improves work efficiency and reduces costs.
Technical parameters:
Model: KPT
Qty.: 6 Sets
Power: Cable Powered
Capacity: 500kg, 0.5t
Table Size: 1765*1500*510mm
Lifting Height: 500mm
Running Distance: 50m
Operation: Hand Pendant + Remote Control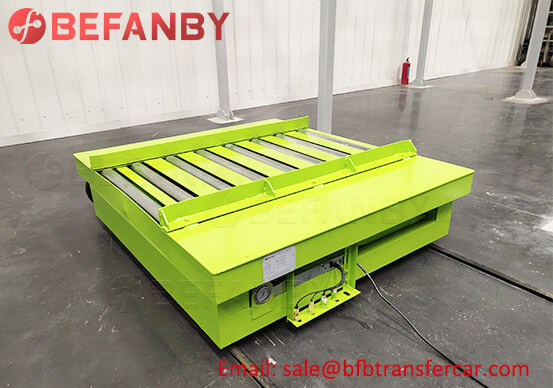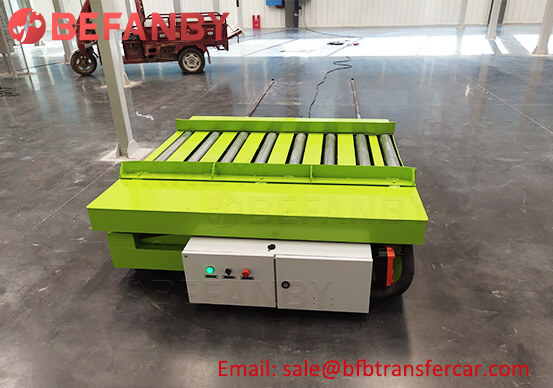 Why choose us:
The automatic electric rail transfer trolley we recommend has the following advantages:
1. Efficient: Automated handling operations can greatly shorten cycle time and improve production efficiency. Our company is specialized in customizing material handling equipment, and has rich experience in automatic handling equipment projects.
2. Safety: The automation equipment can automatically stop and lift the workpiece, reducing the work risk of the staff.
3. Reliable: Our equipment has been strictly tested and verified by customers to ensure stable and reliable operation.
Implementation process:
Our team carried out the commissioning and installation of 6 automatic electric rail transfer trolley at the customer site. Ensure perfect docking of equipment and workstations with precise measurements and layouts. We have also conducted operation training for customers to ensure that they can use the equipment proficiently.
Results:
By introducing automated automatic electric rail transfer trolley, the customer has realized the automation of handling operations and greatly improved work efficiency. Workers only need simple operations to complete the handling and docking work, which reduces the labor intensity and working time of workers. At the same time, the customer has reduced costs and made the production process more efficient.
Real customer evaluation:
"These automatic electric rail transfer trolleys have made our production process simple and efficient. We no longer need to spend a lot of time and energy in the process of transporting workpieces, now we can complete the entire handling and docking process at the push of a button. We are very satisfied with this solution, it really helped us improve our productivity."
In conclusion:
By introducing 6 sets of 500kg rgv automatic electric rail transfer trolley, our customer has successfully realized automated handling operations, improved work efficiency and reduced costs. Our solutions have brought higher production efficiency and a better working environment to customers, and have been highly recognized and affirmed by customers.
BEFANBY can customized different type transfer cart on demand, welcome to contact us for more material handling solution.
Video