6 Sets 75T Sand Blasting Room Rail Trolley For Crane Transfer
April 23, 2023
Sand Blasting Room Rail Transfer Trolley Introduce
The use of rail transfer trolleys in sand blasting room applications has become increasingly popular in recent years. These innovative material handling equipment make it easy to move heavy and bulky materials efficiently and quickly. They are especially useful when it comes to transporting materials back and forth between the blasting room and other areas of the facility. Here is a closer look at this powerful equipment and its application in the sand blasting room.
Rail transfer trolleys are often used in blast rooms. These trolleys can be designed to run on existing rails in the room, or on custom rails specific to the room layout. Transfer trolleys are used to transport materials, equipment and finished products to and from the blasting area. They can also be used to move heavy machinery for easy maintenance or repairs. Rail transfer trolleys are often equipped with safety features and can be remotely controlled for ease of operation.
The versatility and durability of rail transfer trolleys make them ideal for sand blasting room applications. These machines provide a reliable, efficient, and safe way to move materials back and forth between the blasting room and other areas of your facility. With these machines, you can increase efficiency, improve safety, and save on labor costs. With many different designs to choose from, there is sure to be a rail transfer trolley that is perfect for your specific application.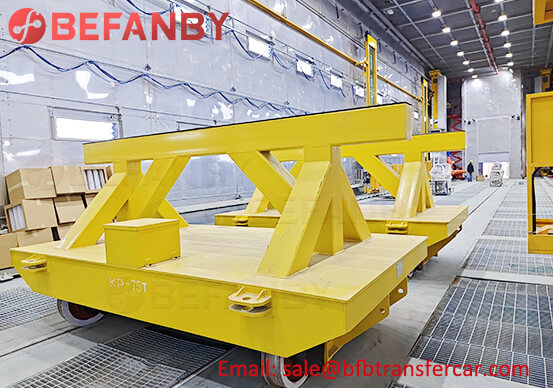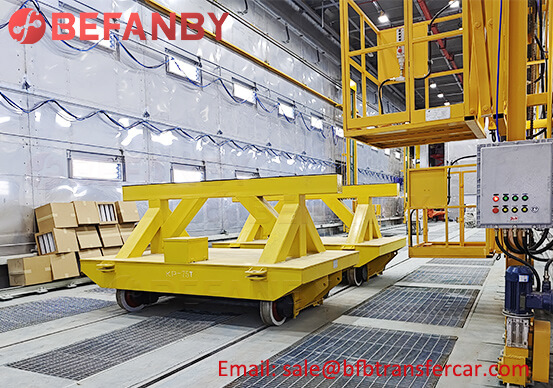 Project Introduce
Our customer ordered 6 sets 75t rail transfer trolley for 3pcs sand blasting lines. According to the customer's introduction to the site, our transfer trolley needs to transport a crane with a minimum length of 20 meters for sandblasting operations, and the transportation distance is 80 meters. Due to the particularity of the customer's workpiece, we designed the following plan for the customer: two rail trolleys work together on one line to carry the workpiece. In order to maintain the stability of the workpiece, we installed a tooling bracket on the trolley to protect the stability of the driving. In addition, due to the special working environment, in order to better protect the rail trolley, the whole trolley is covered with black rubber mats to protect the normal operation of the transfer trolley.
Technical Parameter
1. Model: KPJ
2. Capacity:75T
3. Power: Cable Drum Powered
4. Table Size: 2000*3646*800mm
5. Running Distance: 80m
6. Operation: Hand Pendant + Remote Control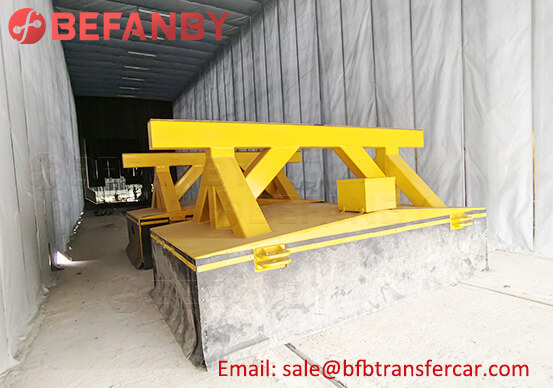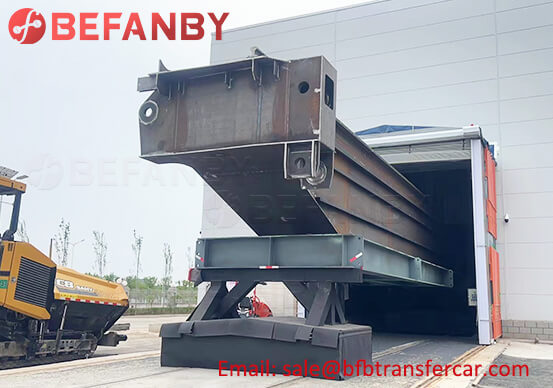 Video Showing
BEFANBY can customized different type material handling solution on demand from different industries, welcome to contact us for more material handling solutions.