25T Battery Driven Flat Deck Trackless Transfer Cart For Assembly Line
March 15, 2022
Flat Deck Trackless Transfer Cart Introduction
The trackless transfer cart is a kind of transportation equipment used in the assembly line. It does not need to lay rails and can move horizontally. It is suitable for transportation between different manufacturing workshops. It can be operated by manual remote control, or it can be equipped with an autonomous navigation function according to demands, which can realize intelligent operation and greatly improve production efficiency. At the same time, the equipment is beautiful in appearance, easy to operate, and has the characteristics of environmental protection and energy saving. It is one of the ideal transportation tools for modern assembly line production.
Assembly Line Application
The trackless transfer cart is a kind of equipment widely used on the assembly line, it can move freely through the control system without rail support. The transfer equipment is widely used in factories, workshops and other places, and can transport a large amount of materials and goods for transportation. Its advantages include smooth operation, simple operation, low cost and so on. In the application demonstration on the assembly line, the trackless transfer cart can quickly and efficiently complete logistics transportation tasks, improving work efficiency and work quality.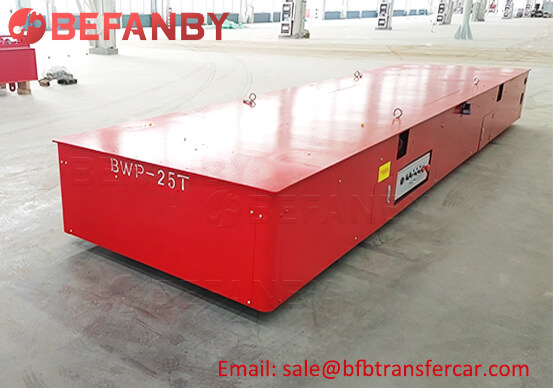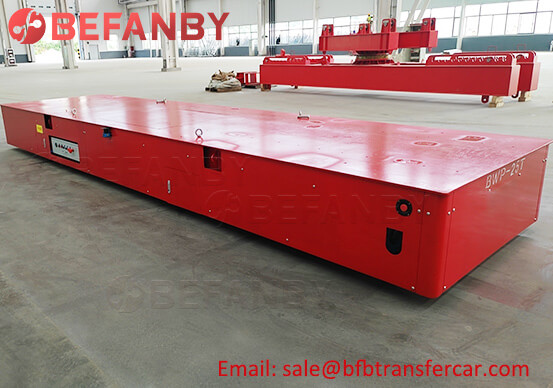 Project Introduction
This customer is our long term cooperated customer. This time, they ordered 3sets trackless transfer carts for their newly expanded workshop. The trackless transfer carts of this project are transported horizontally. The flatbed is waiting for loading at point 1, and the subframe is manually dropped onto the flatbed. On, the manual remote controller controls the flat deck transfer cart, and the flat deck transfer cart runs to the No. 2 loading position and stops. After the semi-finished product is manually lifted away, the manual remote control controls the flat transfer cart to No. 1 point to wait for loading, and the above actions are repeated in turn.
Technical Parameter
1. Model: BWP
2. Power: Battery Powered
3. Capacity: 3t, 10t, 25t
4. Table Size: 7000*2000*700mm
5. Running Speed: 0-25m/min
6. Operation: Hand Pendant + Remote Control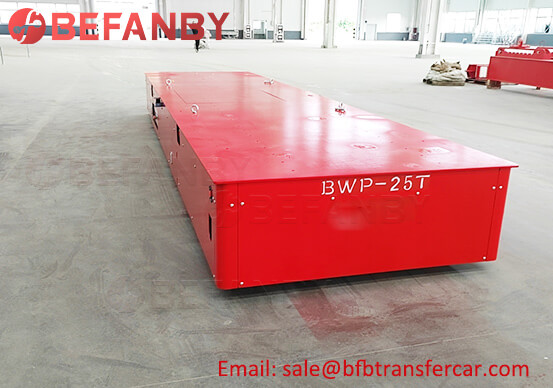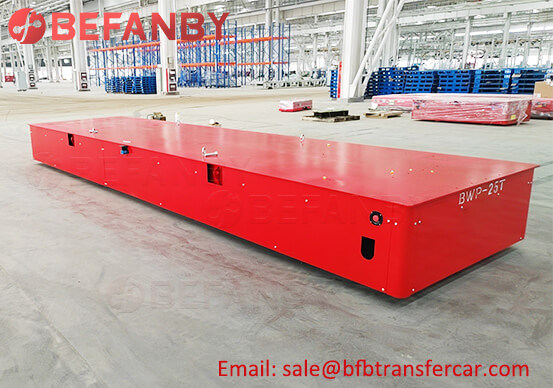 Video Showing
BEFANBY can customized different type transfer cart on demand, welcome to contact us for more material handling solution.