20T Electric Rail Transfer Platform Remote Control For Bulk Material Handling
March 18, 2019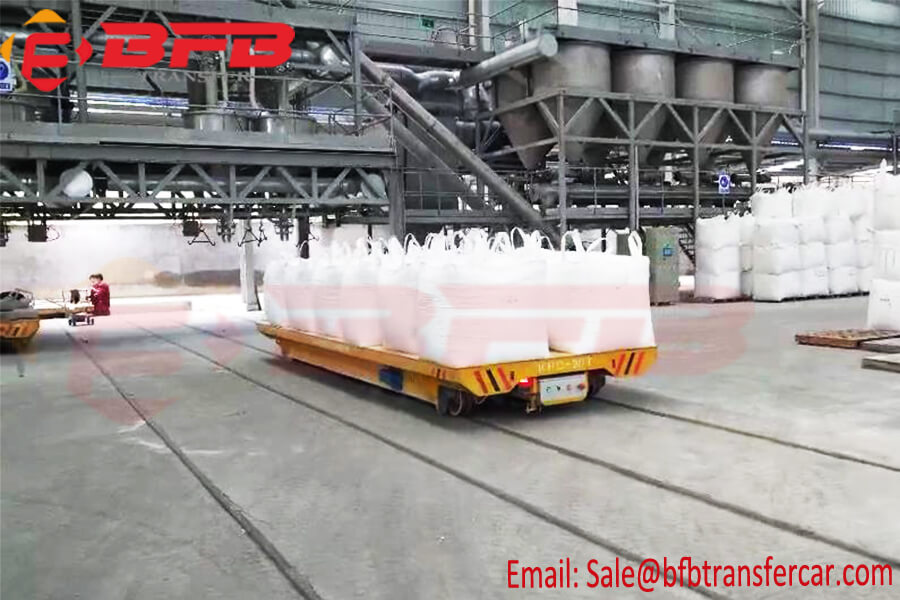 2 sets low voltage rail type rail transfer platform was tested well on site, there are two group rail line and respectively moving on the rails for bulk material handling. Because the transfer cart need to constantly work over 8 hours on production line, and the running distance is 400m, the low voltage rail powered was designed without cable, which makes the transportation more convenient, but the rail wheel an rails need to be insulated to guarantee the safe, and it is our mature product.
The following points should be paid attention to when purchasing a rail transfer platform: the structure of a rail transfer platform, the frame is the basis of the rail transfer platform, and determines the quality of the rail transfer platform befanby rail transfer platform adopts a unique box beam structure, which is reasonable in design, beautiful in appearance, and good in integrity, which ensures the flat height of the rail transfer platform It can ensure that the electric flatbed truck runs for many years, and the tabletop will not sag and deform due to overload. 2. Rail transfer carts wheels. The wheels are like human feet. They run frequently and bear great pressure. They should be cast with high-quality raw materials. The befanby rail flat platform adopts crane wheels. The wheels are processed by heat treatment. The material is selected: ZG55, and its surface hardness can reach HB320-380. The wheel bearings are selected from domestic first-line brands to ensure that the wheels will not crack and deform due to long-term use.
BEFANBY can customized all kinds of transfer carts from different industry, including agv, rgv, rail transfer cart, steerable transfer cart, etc. Welcome to consult with us for more details and competitive quotation.
Technical Details for Rail Transfer Platform:
1. Model: KPD
2. Capacity: 20T
3. Table Size: 5000*1800*550mm
4. Power: Low voltage rail powered
5. Wheel size: 400mm
6. Running Distance: 400m
7. Rail Type: P38 Rails
8. Control: Hand Pendant + Remote Control
9. Warranty: 2 years
10. Color: Optional Color