12T Steel Pallet Transfer Cart On Rail With Roller Conveyor
February 21, 2021
2 sets steel pallet transfer carts run on the steel rails for connecting with the conveyor line,which is our customized products on demand. When the rail transfer cart run the line, it will stop automatically by limited switch, and then the roller conveyor will start working to convey the steel pallet to the line or the line convey the pallet to the cart. Whats' more, due to different conveyor line height, the The rollers are lifted to connect with conveyor lines of different heights.
About the power supply, befanby design low voltage rails powered to meet the demand, the rails and wheels all are insulated considering the safety. It can be used in high using frequency without limited cable, which is more convenient when making material handling work.
Our customer is a large listed company insist in intelligent material lifting equipment, the end user plan to built a smart new workshop, our transfer carts are one of the large project, also including crane, processing machine, etc. Befanby also can provide one stop solution to you once you need.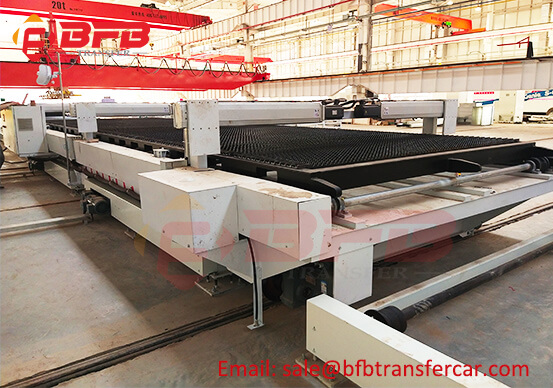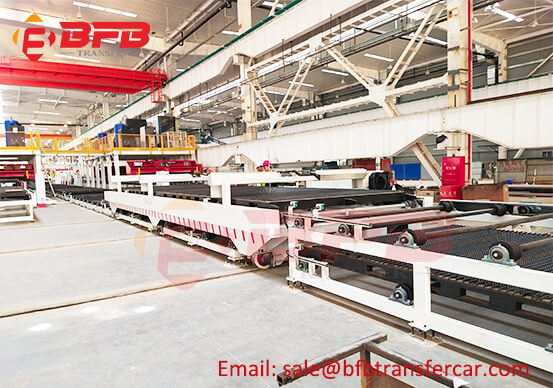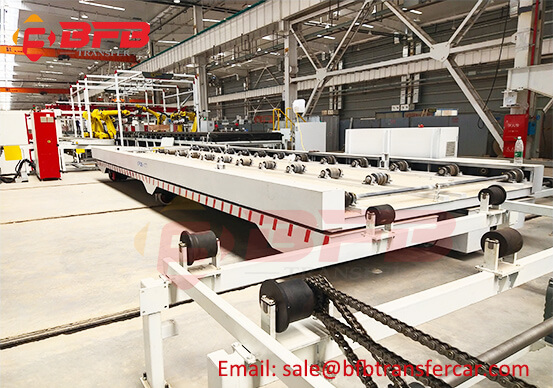 Technical Details:
1. Model: KPD
2. Power: Low Voltage Rail Powered
3. Capacity: 12 Tons
4. Table Size: 3000*10000*800mm
5. Running Speed: 0-22m/min
6. Rail Type: P24
7. Operation: Hand Pendant + Remote Control
8. Function: Lateral movement, roller conveying, lifting system. Automatic stop, etc., customization support