10T RGV Industrial Heavy Duty Platform Transfer Trolley Moved On Rails For Large Storage Tanks
July 16, 2020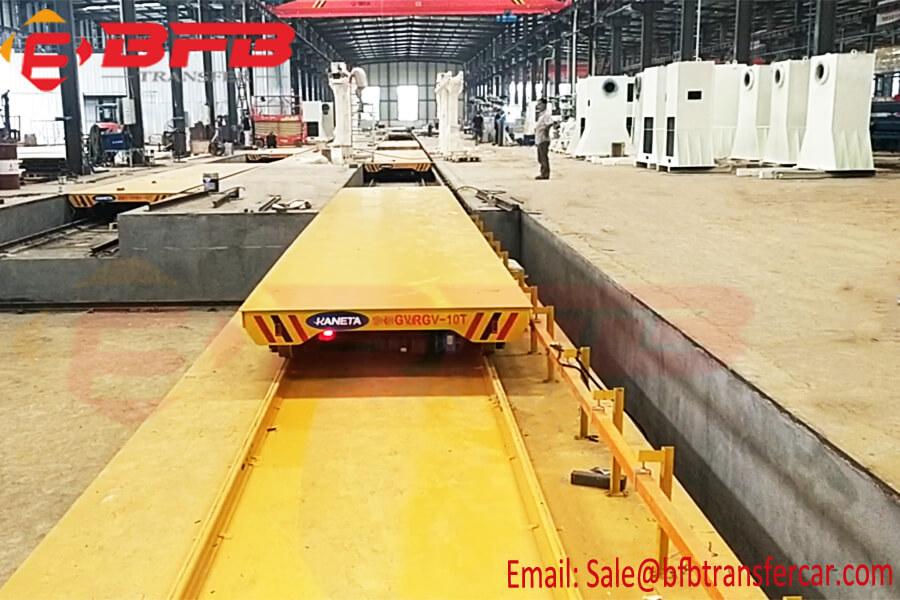 12 sets industrial heavy duty platform transfer trolley has been used in the Robot welding line, our engineer went to customers' site to adjust and test the transfer trolley. 2 sets 15 ton rail transfer trolley was placed on pit for ferry other 10 sets heavy duty platform trolleys to different welding line. The plc system was installed on the rail trolleys to realize automated handling, stop, work and so on.
Our customers company, their main business are sales and manufacture of industrial robots, industrial robot system integration, design and implementation of automated production line; Automation product development and sales, etc.
About our BEFANBY company, we can customize different type transfer cart as per the different working site, such as ferry transfer trolley, RGV, ladle transfer trolley, coil transfer trolley, train tractor, AGV, etc..
Technical Parameter of Industrial heavy duty platform transfer trolley for ferry:
1. Model: KPT
2. Capacity: 15 Ton
3. Table Size: 3000*13000*600mm
4. Power: Mobile Cable powered
5. Running distance: 136m
6. Running Speed: 0-20m/min
7. Wheel diameter: 350mm
8. Rail Type: P24
9. Operation Type: Hand Pendant + Remote Control
Technical Parameter of Industrial heavy duty platform transfer trolley RGV:
1. Model: KPC
2. Capacity: 10 Ton
3. Table Size: 13000*2000*500mm
4. Power: Sliding line powered
5. Running distance: 11m
6. Running Speed: 0-20m/min
7. Wheel Diameter: 300mm
8. Operation Type: Hand Pendant + Remote Control
9. Rail Type: P24
10. Other Function: Plc System
11. Warranty: 24 Months