Heavy Load AGV Transporter For Shipbuilding Industry
October 02, 2023
With the advent of the Industry 4.0 era, China's heavy load agv transporter industry continues to heat up, and the "heat" of heavy load agv transporters continues to heat up, showing high growth momentum in terms of the number of companies, output, and application rate. Xinxiang Hundred Mechanical and Electrical Co., Ltd. (hereinafter referred to as "BEFANBY") is a manufacturing enterprise specializing in the research, development, production and sales of material handling equipment. For more than 20 years since its establishment, it has been taking advantage of independent innovation. Its heavy load agv transporter Characterized by large size and high load capacity, it can complete automated operations such as processing, manufacturing, and transportation of some large objects. It is suitable for warehousing, manufacturing, ports, airports, etc.
It is reported that BEFANBY heavy load agv transporter has been successfully used in the shipbuilding industry. After passing the inspection, it was successfully rolled off the production line and delivered to customers.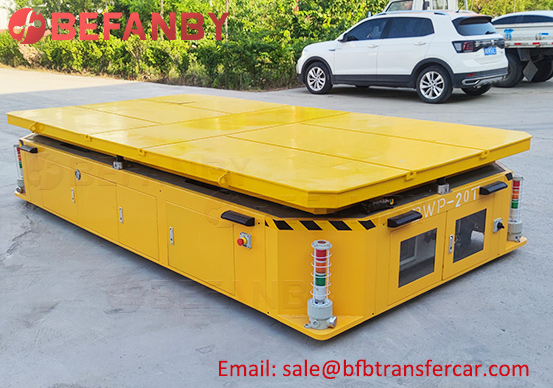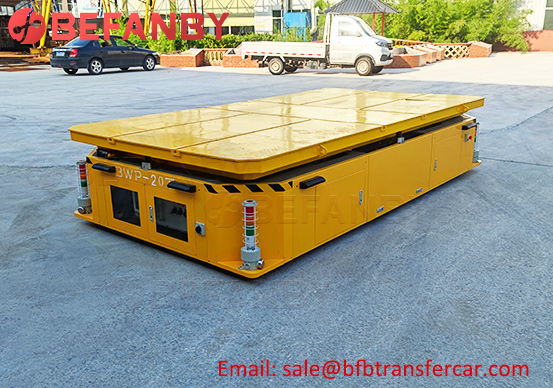 In the past, this project mainly faced the following problems: 1. Discrete products, multiple varieties, small batches and large single workpiece mass; 2. Due to the superposition of multiple factors such as workpiece processing quality and accuracy, there is a high probability of dimensional deviation; 3. Production process The precision control requirements are strict, the control is difficult, the assembly and welding quality requirements are high, and the inspection requirements are high;
The entire project covers an area (open-air & indoor) of 58,824 square meters, and outputs two 20T backpack heavy load agv transporters. The AGV operating area is mainly used for fully automatic transportation of transfer pallets between the profile secondary processing station and the robot segmented prefabricated station.
BEFANBY's backpack-type heavy load agv transporter operates on demand and is flexible and efficient. The rated load is 20 tons, which can meet the transportation needs of H-beams, steel plates, angle steels, pipes and other workpieces of various sizes on pallets of ≥3.5m Transportation to improve distribution turnover efficiency.
The AGV has its own lifting function. It can drive directly under the pallet, lift the pallet, and transport the pallet. After arriving at the destination, the AGV will remove the pallet containing steel plate parts and H-shaped steel parts from storage according to the instructions of the superior management and control system. The work station is sent to the cache station of the construction station and finally lands at the designated location.
Equipped with 4 sets of drives and a large-diameter steering wheel, it has a small turning radius and can move horizontally and diagonally. It also has a horizontal self-test function and can complete horizontal and vertical self-locking, 360-degree translation, and multiple movement modes to achieve smooth transportation of materials. Purpose.
BEFANBY can customized different type transfer cart on demand, welcome to contact us for more material handling solution.