Heavy Duty AGV Trolleys Applied In The Military Industry
October 18, 2023
With the advent of the intelligent era, AGV trolleys have begun to be applied to manufacturing fields such as aerospace and automobiles, as well as ports, stations and other fields. With the continuous deepening of AGV, enterprises' demand for AGV handling robots has become more and more diversified. heavy duty AGV robots are a new technology driven by market demand.
Compared with ordinary AGVs, heavy duty AGVs can undertake tasks that small AGVs cannot complete. With their large size and high load-bearing characteristics, they can safely and efficiently realize the processing, manufacturing and transportation of large-scale material equipment, which is very important for military industrial enterprises. It has played a very positive role in improving production and transportation efficiency in heavy machinery manufacturing enterprises, railways, ports, airports and other fields. However, at this stage, there are relatively few manufacturers of heavy duty AGV handling robots in my country. Although there is a strong demand for heavy duty AGVs in related fields, factors such as strict technical requirements and high matching accuracy have hindered the development and use of heavy duty AGV robots. The threshold is high, making it difficult for small businesses to afford the relevant costs.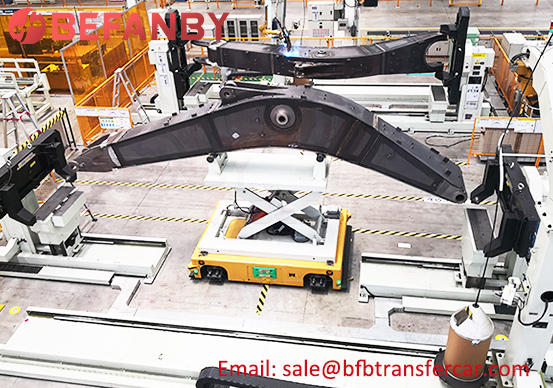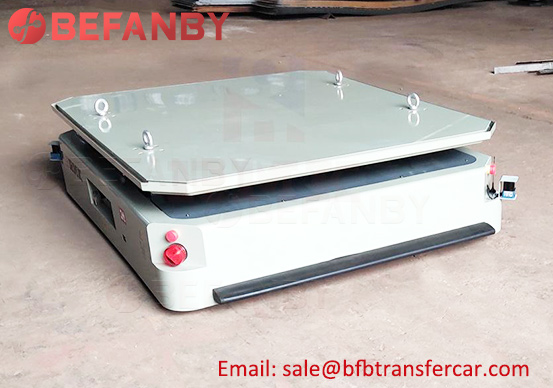 An aviation company, in-depth implementation of the requirements of military intelligence, joined hands with BEFANBY to discuss the practice of integrating AGV handling robots with production and manufacturing. In order to better help enterprises solve problems, BEFANBY conducted research on the internal and external environment and resources in this field and found that the weight of materials required for production by this enterprise varies greatly, that is, there are light materials within 200KG and large materials exceeding 5000KG. During production, The process requires repeated loading and transportation.
In order to better meet the enterprise's production environment, BEFANBY Company, which has many years of experience in the AGV industry, is ready to adopt diversified and high-precision design solutions to meet the enterprise's production needs. In this project, BEFANBY uses heavy duty and small AGV equipment to solve the transportation needs of different production lines and products of the company. The heavy duty AGV truck is driven by multiple steering wheels and can travel in all directions at the same time. It can also be lifted into the jacking mode. The maximum load requirement reaches 5 tons. With the characteristics of large size and high load, the heavy duty AGV can complete what small vehicles cannot. handling operations.
In order to ensure the stability and safety of the AGV equipment, a 44.57 travel reduction ratio, a 140 steering reduction ratio, and an overall size of 2550mm*1300mm*570mm are used in the equipment to achieve smooth material transfer. In addition, BEFANBY is also equipped with a variety of safety measures and systems. By setting up a safe obstacle avoidance range, 360° safety protection, flexible anti-collision bars, emergency stop buttons, multi-level warnings, fault reports and other software and hardware optimization, it ensures The heavy duty AGV robot operates stably and efficiently. AGV equipment used to carry large-scale military equipment such as rockets and missiles can be assembled independently under the control of unmanned operations and computer preset systems, which not only improves accuracy but also greatly improves production efficiency.
In recent years, BEFANBY company has continued to delve deeply into low-speed and precise mobile navigation technology and industry system solutions, and increased its innovation efforts. Its products are widely used in the automotive industry, new energy industry, lithium battery industry, household appliance industry, panel industry, and 3C. Semiconductor industry, etc., bringing customized smart logistics solutions to customers. In the future, BEFANBY will bring more high-quality products and services to customers and empower the development of the digital industry! Welcome to contact us for more material handling solution.