Motorized 5 Ton Steel Coil Transfer Rail Cart Moving Workshop Roll Coil
November 14, 2020
The coil rail cart are customized power source as per the using frequency and running distance and controls the forward and reverse of the AC traction motor through the AC control system. It relies on the reducer to drive the wheels to start, stop, forward, reverse, accelerate, decelerate, etc. . The V-shaped bracket is installed on the electric rail transfer cart table to prevent columnar cargo from rolling off the car.
Common types of coiled materials are: steel coils, aluminum coils, steel pipes, cable reels or tires, etc., to transport such cylindrical work pieces, in order to avoid the work piece shaking during transportation, a V/U frame is added to the rail cart table. The position of the work piece to achieve the goal of safe production.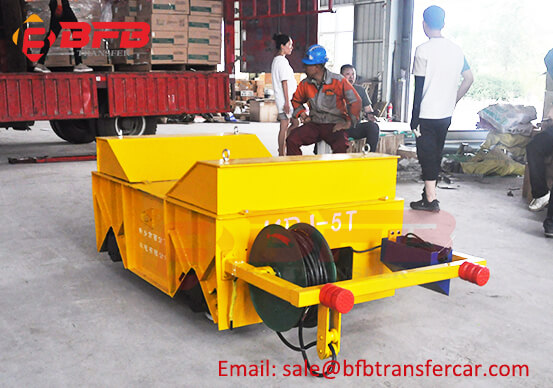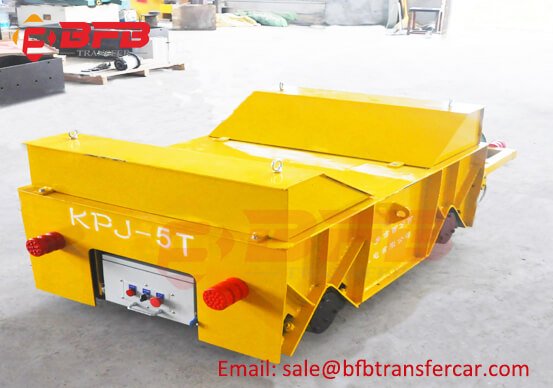 The V/U frame fixed on the electric rail cart determines the separation distance and quantity according to the size of the work piece and the quantity of single transportation. The user informs us the size of the work piece, and our technicians can design a solution that satisfies the user. The V/U frame of the coil car is optional: the adjustable distance V frame and the fixed V frame welded to the table. The coil rail cart is composed of a frame, AC motor, reducer, wheels, electrical appliances, safety trolley wire, V-shaped frame, cables, etc.
Technical Parameter of 5 Ton Steel Coil Transfer Rail Cart:
1. Model: KPJ
2. Power: Cable Drum Power
3. Table Size: 1500*1000*500mm
4. Capacity: 5 Ton
5. Running Speed: 25m
6. Rail Type: P18
7. Special Design: The V deck platform was installed on the cart
8. Rail Drawing: Support
9. Control: Pendant Push + Remote Control
BEFANBY transfer rail cart can woke on different application with more than 16 years' manufacturing experience, welcome to contact us to learn the solution.