Cable Powered 2 Ton Electric Rail Cart And Track For Robot Transfer
November 19, 2020
1 set 2 ton electric rail cart was tested well which was ordered by the China Institute. The rail cart transfer the robot on rails. To prevent rollover, the anti-rollover clamp rail can effectively prevent the center of gravity displacement caused by the rolling of the goods from causing the trolley to roll over. The rail clamp has stable clamping force, safe and reliable.The anti-rollover clamp rail was open while rail transfer cart begin to work. When the rail cart stops automatically at the required positioning point, the robot on the car starts to work, and then the rail clamp starts to play its role.
Technical Parameter
1. Model: KPT
2. Power: Cable Powered
3. Capacity: 2T
4. Table Size: 1800*1200*400mm
5. Running Speed: 10-30m/min
6. Rail Type: P24
7. Operation Type: Hand Pendant + Remote Control
About the power source, the cable powered rail cart generally was used in short running distance and high using frequency, which is more economic material handling solution. Befanby also can customized different kinds of transfer carts on demand, welcome to contact with us for more details.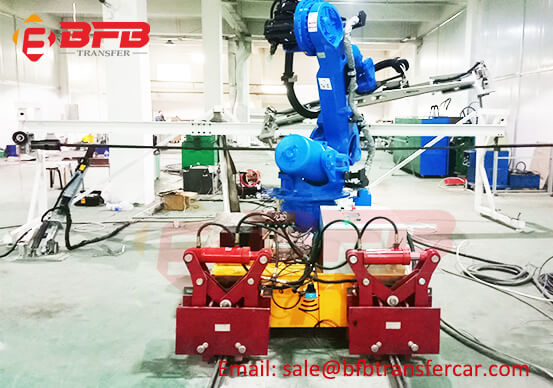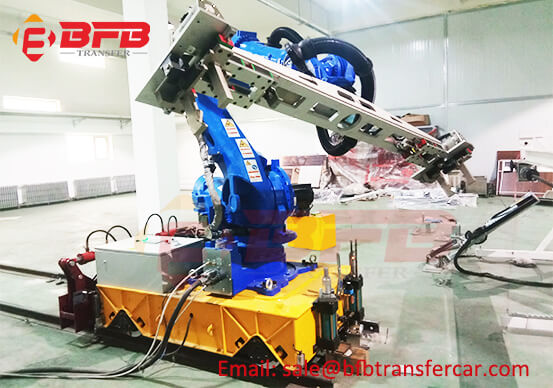 About our customers, China Institute *** has formed three research directions: robotics, intelligent manufacturing, and optoelectronic information, which have overcome the technological progress and technological transformation of national high-tech technology, national security, and large and medium-sized enterprises Another difficulty was to achieve remarkable scientific research results, and won 394 awards from the state, academies of sciences, ministries and commissions and local science and technology awards. Over the years, the Institute of Automation has focused on the major strategic needs of the national economy and national security development and condensed its research directions. In underwater robots, industrial robots, industrial automation technology, and information technology, it has made a number of revealing innovations.