5T Rail Turntable Electric Transfer Platform Cart 3 Ton
June 19, 2017
Yulin ** Equipment Co., Ltd., located in Guangdong Province, ordered 3 sets KPX-3T rail electric transfer platforms and 7 sets 5t electric turntables from BEFANBY company.
The relevant technical parameters are as follows:
1. Trolley table size: 4650*2300*500mm;
2. Turntable Diameter: 3600mm;
3. Inner rail distance: 1435mm;
4. Rail center distance: 1475mm;
5. Operation mode:Operation handle + wireless remote control;
6. Running length: unlimited;
7. Wheel diameter: 300mm;
8. Guide rail model: P18;
9. Vehicle color: medium yellow;
10. Diameter of turntable: 3600mm;
11. Operation mode: console;
12. Reversing angle: 360 degrees;
13. Rotation speed: 1r/min;
14. Power supply: 380V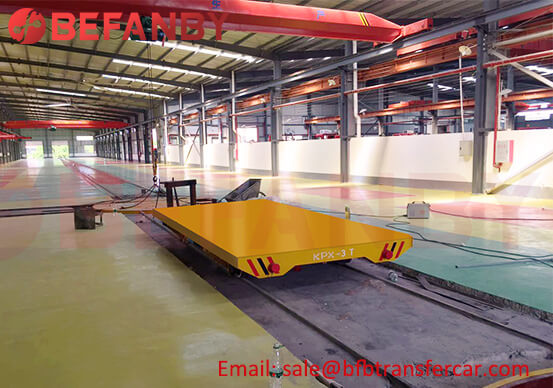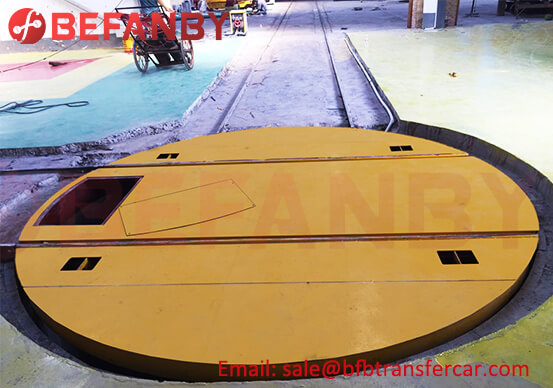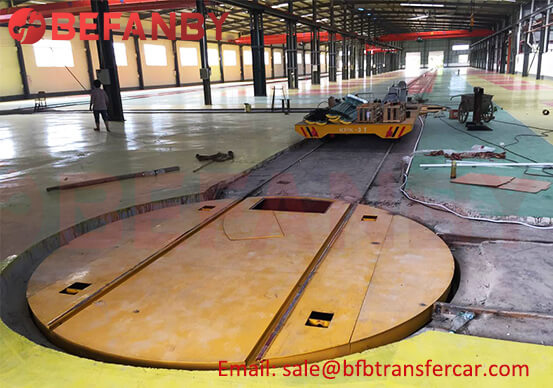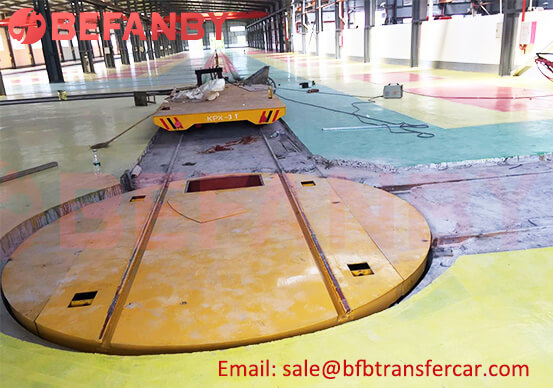 **Aluminum is one of the earliest enterprises producing aluminum profiles in mainland China. It has now become a well-known large-scale enterprise specializing in the production of architectural aluminum profiles and industrial aluminum profiles. It is the designated production base of aluminum alloy profiles by the Ministry of Construction of China. In 2003, it was rated as the "No. 1 in the Top Ten Aluminum Profile Enterprises in China" by the China Nonferrous Metals Industry Association, and in 2008, it was confirmed as the No. 1 leader again. In 2012, it was rated as "No. 1 in China's Top 20 Construction Aluminum Profile Enterprises" by China Nonferrous Metals Processing Industry Association.
This batch of electric transfer platform cart is mainly used for three horizontal rails and two longitudinal rails. The rail platform cars cross back and forth on the 5 tracks, and the electric turntable is used for 90-degree or 180-degree steering at the intersection. When the electric transfer platform cart runs to the electric On the turntable, the manual cargo automatically rotates the turntable and docks with the vertical track, so that the transfer cart runs along the vertical track and realizes a 90-degree turn.
This kind of circular track and cross-track assembly line is a more suitable solution to use the track transfer cart + electric turntable solution. The turntable system runs smoothly, the track docking precision is high, and it can realize automatic electrical control.
This batch of equipment has arrived at the customer site and has been debugged. The customer feedback is good. For more product information, please visit the BEFANBY official website. Welcome to consult and negotiate!