50T Customized Manufacture Tilt Table Ladle Car for Molten Copper Ladle Powered Sliding Line
May 06, 2017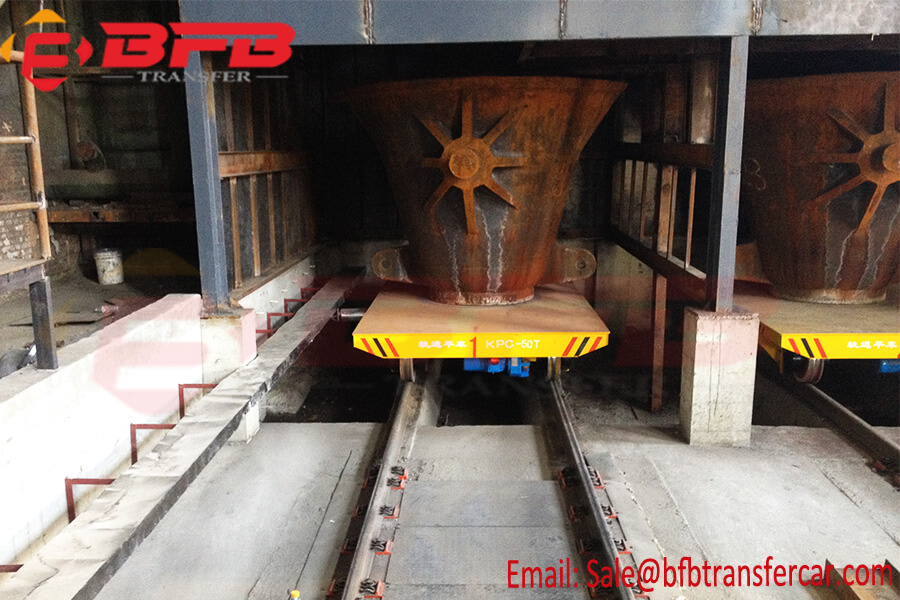 3 sets 50t sliding line powered ladle car was installed at 3 pcs different production lines for ladle handling. Due to special working environment, the sliding line powered are designed to use. The ladle car can travel on bends and turnouts, the running distance is not limited, and there is no insulation requirement for the track, so the construction is convenient. What's more, in order to prevent the high temperature radiation of the ladle, the interior of the ladle car body is equipped with heat insulation material. In order to prevent the high temperature of the molten steel from damaging the motor, the ladle car uses dual motors, one of which is damaged, the other can still work normally.
Our customer company mainly produces blister copper, anode plates, sulfuric acid, cathode copper, gold and silver, etc. The ladle car ordered this time is mainly used to transport copper ladle. The total capacity of the copper ladle is 45T and the diameter is 1.8m when it is full. Between -2m. The workshop rail transfer car is parked at the discharge port of the smelting furnace. The empty copper ladle is placed on the platform. After the smelting furnace is opened, the copper water flows into the copper ladle from the discharge port. There is an electronic scale on the track to display the weight, which is convenient The output is counted. When the rated capacity is reached, the discharge port is closed, the flat car is started, and the copper ladle is transported to the designated workshop.
Features: 1. Wheel sensor weighing.
2. The LCD screen displays the weighing value, which is optional.
3. Tilt table can be customized as per the using requirement.
Technical Parameter Of Ladle Car:
1. Model: KPC
2. Power: Sliding Line Powered
3. Table Size: 3500*2000*480mm
4. Wheel Diameter: 500mm
5. Capacity: 50 Ton
6. Running Speed: 20m/min, customized
7. Rail Type: P43 steel rails
8. Control Method: Hand Pendant + Remote Control
Welcome to contact us for more materials handling solution