5T Plc Controlled Rail Powered Scissor Lift Transfer Cart For Workshop Steel Beam Handling
August 12, 2020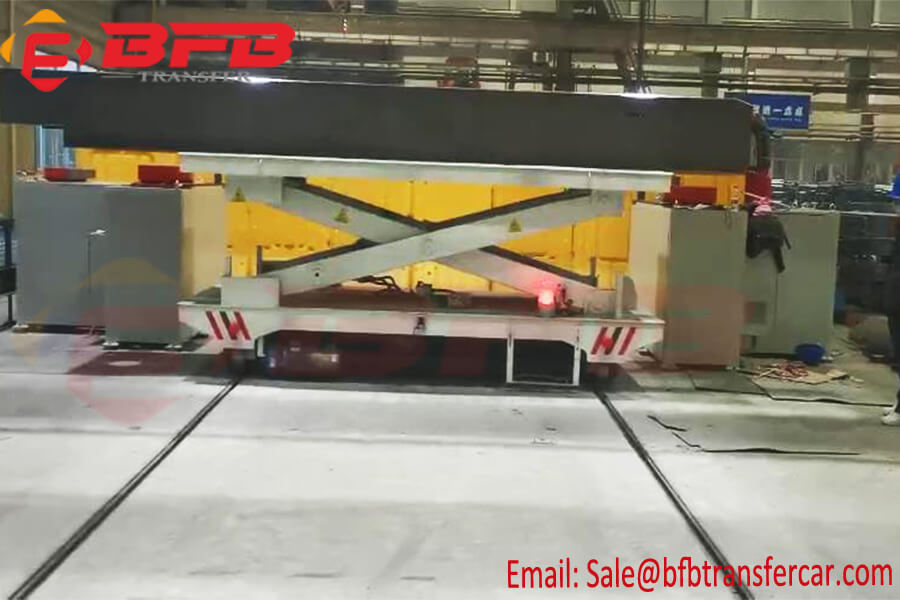 The rail transfer cart need to meet the requirement of automatic unloading of workpieces by hydraulic scissor lift system as per our customers' requirement. About the hydraulic system, The general hydraulic device is mainly composed of hydraulic pump station and hydraulic cylinder. When designing and selecting hydraulic devices, it is necessary to consider the motor power, current, voltage and control voltage of the hydraulic pump station; whether the speed of the hydraulic cylinder is adjustable and whether it is necessary to maintain pressure; the length, width, and height of the installation space size, etc.
About the PLC system, the 5t rail transfer cart can transport on rails automatically by programming electrical system by our engineer if necessary which is our mature technical for material handling solution.
About the rail powered, it is safe voltage 36V, the working principle is that the low-voltage energy-saving track transfer cart is a voltage dropper that reduces the voltage to 36v and transmits the safe voltage to the track. Then the rail transfer cart takes the 36v voltage from the track and boosts it to 360v to supply power to the transfer cart for operation. The product can be loaded, the largest load capacity can reach to 1,000 tons and customers are used to transport large-scale machinery parts customized low-voltage rail transfer carts.
Technical Parameter of scissor lift transfer cart:
1. Model: KPD
2. Capacity: 5 Tons
3. Table Size: 1500*4200*1200mm
4. Power: 36v Low voltage rail powered
5. Running Distance:20m
6. Using Frequency: High
7. Wheel: single flange rail wheel, ZG55 Material
8. }Lifting Height: 600mm
9. Automated: PLC Control
10. Operation Type: Hand Pendant + remote Control
11. Warranty: 2 years
Welcome to inquired us for more material handling solution.