5 Tons Indoor Motorized Electric Rail Cart With Automated Roller Device
June 05, 2018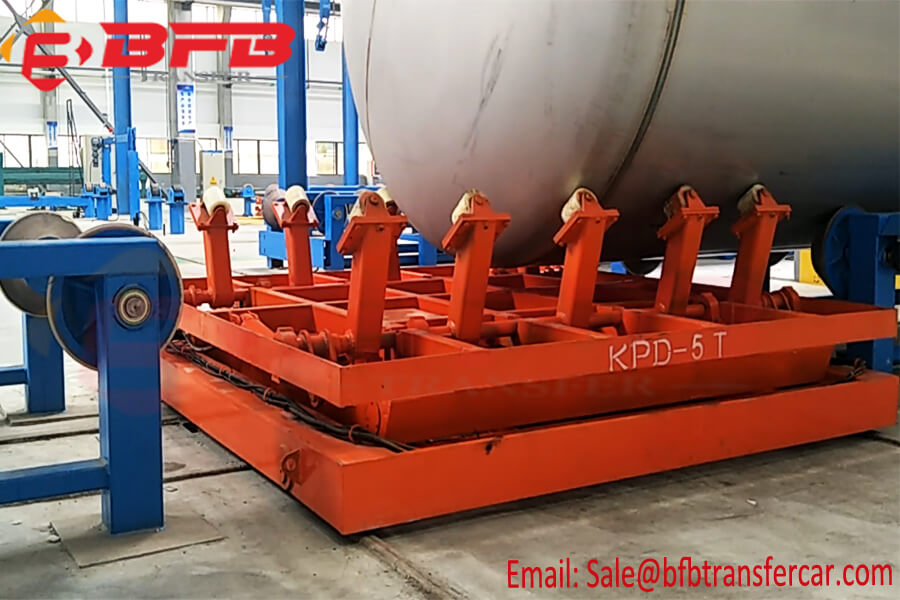 Our customers purchase 32 sets transfer cart for workshop tank producing and processing in different production line and manufacturing line with different function and configuration. For this type motorized electric rail cart as picture showing, The roller bracket rolls to transport the tank connecting with the roller installed on the workshop, so the automated roller device will be designed to meet the working requirement the lifting system are installed on the rail cart to lifting the tank from one work point to another work point.
About the power supply, the low voltage rail powered rail carts are recommended, The low-voltage track electric rail cart feeds power to the conductive rail (the conductive rail doubles as the running track of the rail cart), and the low-voltage power is sent to the step-up transformer on the car through the conductive device of the flat car, and the voltage is boosted to 380V to drive the three Phase or single-phase capacitor motor drives the rail cart to run. The advantage of the KPD low-voltage track motorized electric rail cart is that because it does not use cables, it is not only safe, but also not afraid of being burnt, not afraid of smashing, and does not interfere with cross transportation. It is easy to realize remote control and automation. It can drive on bends and circular roads. It is not necessary to increase the number of step-down transformers appropriately. Limited by the distance of the rail cart, the transportation layout of the plant is very convenient.
Technical Parameter of the Motorized Electric Rail Cart:
1. Model: KPD
2. Power: 36V Safe low voltage rail powered
3. Capacity: 5 Tons
4. Table Size: 2640*2440*440mm
5. Lifting Height: 1000mm
6. Running Speed: 15-20m/min
7. Wheel Diameter: 200mm
8. Rail Type: P24
9. Color: Red
10. Operation Type: Hand Pendant + Remote Control
Welcome to Contact us for more details.