5 Sets Anti-Explosion 20T Turntable Ferry Rail Transfer Cart For Coating Line
July 31, 2019
Our clients placed the order with 4 sets customized transfer cart with different function of ferry, anti-explosion and turn table. The transfer cart were used in coating line, which was customized as per the factory siting. The article will introduce the detailed material handling solution about the project.
Solution Introduce
The transfer cart of this project is mainly used in the transfer of oil tanks, clamps, accessories and other objects in the production process of the welding section of the processing workshop of our company's coating line.
1. The KPC sliding line powered rail transfer cart was used in the pit for ferry, the capacity is 20 tons, due to different station with different direction, so the transfer cart table is with rotary, it can be rotating as per the requirement. And the plc system was installed on the transfer cart, which can realize automatic stop on required position.
2. The battery powered transfer cart, the whole transfer cart was anti-explosion due to special working environment. After reached required working position, the rail transfer cart will run with transporting workpiece.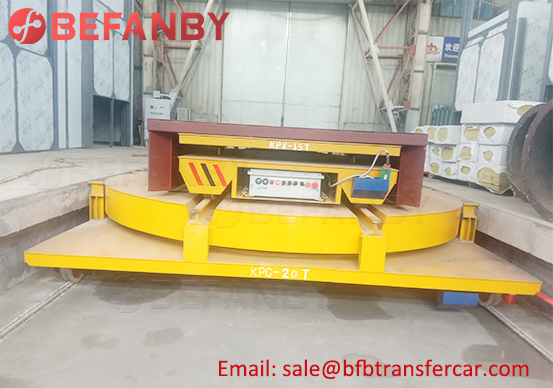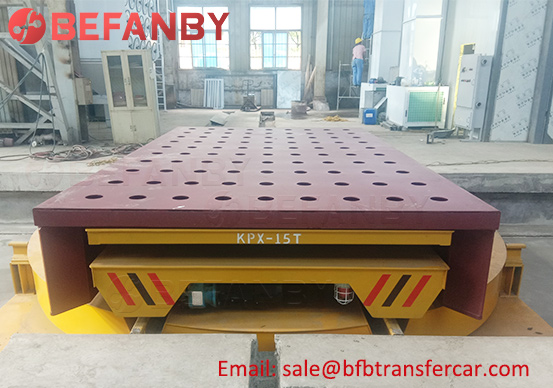 Technical Parameter
1. Model: KPX KPC
2. Power: battery powered, sliding line powered
3. Table Size: 4000*2000*500mm, 4400*4400*850mm
4. Running Speed: 0-20m/min
5. Operation: Hand Pendant + Remote Control
6. Function: Ferry, Rotating Turntable, Anti-explosion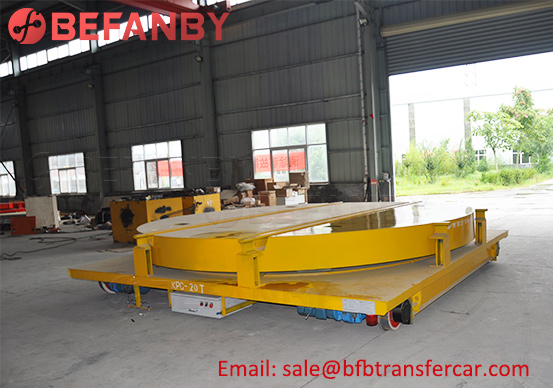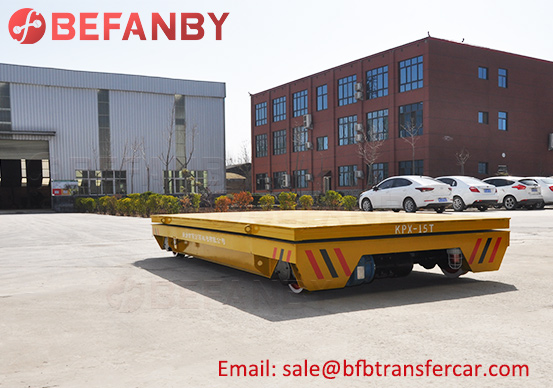 Customer Company Introduce
Shandong *** Company is a domestic company specializing in the design and mass production of various types of oil-immersed power transformers, special transformers, reactors, dry-type transformers, intelligent online monitoring systems, etc. First-class enterprise. The company's products are mainly distributed in the State Grid Corporation, China Southern Power Grid Corporation, Huaneng, Datang and other five large and four small power generation groups, major central enterprises and various enterprise users, covering 34 provinces, municipalities and autonomous regions across the country, and the industries involved include steel, petroleum, chemical industry, and coal. , railway, hydropower, wind power, photovoltaic power generation, etc.
BEFANBY Company Introduce
The company has an annual production capacity of more than 1,500 sets of handling equipment, and can customize various handling equipment and solutions, and the carrying capacity of the equipment can reach 1,500 tons. With more than 20 years of experience in the design of electric transfer carts, it has unique advantages and mature technologies in the design and production of heavy-duty AGVs and RGVs. The main products include AGV (heavy duty), RGV, KPD low-voltage track type, KPX battery type, KPT tow cable type, KPJ cable reel type, KPC trolley line type, BWP trackless type, KP unpowered type, BZP turntable type, BWT Eleven series of trackless trailers, including conveying, turning, coil, ladle, painting room, sandblasting, ferry, hydraulic lift, traction, explosion-proof and high temperature resistant, monorail, Hundreds of handling equipment and various handling equipment accessories such as generators, track maintenance vehicles, road-rail dual-purpose tractors, locomotive turntables, etc. Among them, the explosion-proof battery electric transfer cart has obtained the national explosion-proof product certification.
Welcome to contact us for more material handling solution.
Site Video Showing