30T Outdoor Moving Anti-Explosion Turntable Rail Transfer Cart
March 20, 2023
Anti-Explosion Turntable Rail Transfer Cart Introduce
When it comes to industrial material handling, safety should be the top priority. Therefore, choosing the right rail transfer cart is crucial to ensure a safe and efficient operation. One of the most important pieces of equipment in material handling is the transfer cart, and an anti-explosion turntable rail transfer cart is an excellent choice for explosive environments.
Why choose an anti-explosion turntable rail transfer cart? First and foremost, this type of transfer cart is specially designed with safety in mind. It is constructed with explosion-proof materials and is equipped with safety features that prevent accidents from occurring. This is especially important when working in environments where there is a high risk of explosion, such as in chemical plants, oil refineries, and other hazardous locations.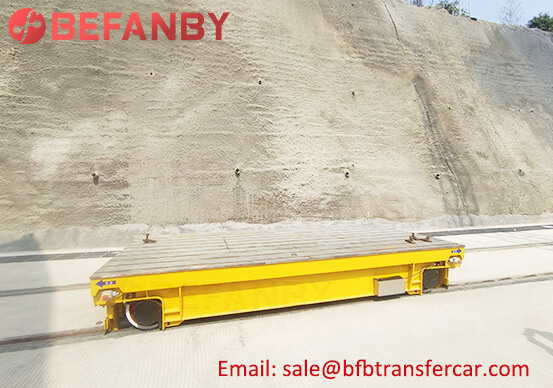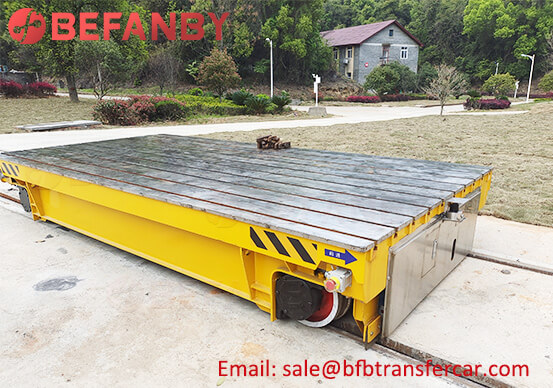 Cooperated Project Introduce
One rail transfer cart and three turntables ordered by our customer are used in the military industry for outdoor transportation. Due to the special working environment, all the transfer carts are treated with explosion-proof treatment. The turntable is used to assist the rail transfer cart to achieve a 90-degree turn. The rail transfer cart is divided into two modes of automatic operation and manual operation. In the automatic mode, the electronic control system adopts PLC to automatically control the operation of the explosion-proof electric transfer cart, laser radar, anti-collision device, speed control, equipment failure alarm, etc. In manual mode, before entering the turntable, press the stop button manually, and the explosion-proof electric rail transfer cart starts to decelerate. In any case, manually press the stop button, and the explosion-proof electric flat car will stop according to the program. After the turntable is detected, it will automatically stop at a safe position. During the rotation of the turntable, the electric flat car must be locked and cannot move or slide. At the terminal parking point, set the limit limit block (using polyurethane material) and the limit stop.
Technical Parameter
Model: KPX
Capacity: 30t, 35t
Table Size:4000*2000*600mm
Power: Battery Powered
Turntable Diameter: 4200mm
Rail Type: P43
Operation: Screen + Remote Control+Hand Pendant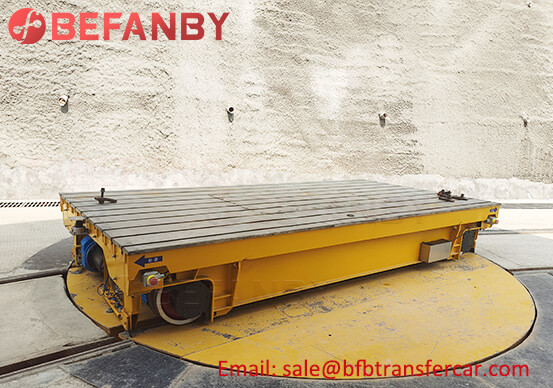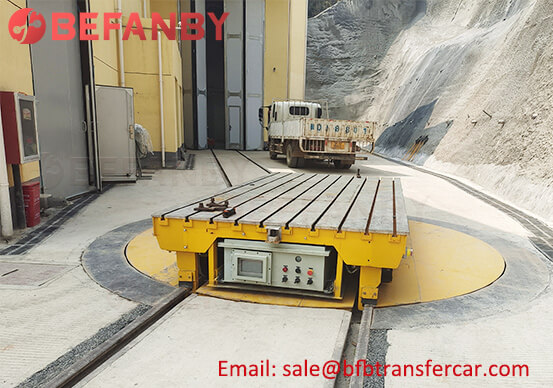 Video Showing
BEFANBY can customized different type material handling solution on demand from different industries, welcome to contact us for more material handling solutions.