2T DC Motorized Rail Coil Transfer Trolley On Railways Exported Uzbekistan
March 10, 2020
2 Ton rail coil transfer trolley has been applied in steel industry for handling, our customer from Uzbekistan do business in Steel industry, steel coils are one of their product, as per customers requirement, one transfer trolley transport one coil once time, one coils load is 2 Ton, the coil diameter is 1500mm. Whats' more, the using frequency is not higher, so the battery type transfer trolley was recommended which is a kind hot popular product.
The rail coil transfer trolley is a transportation tool that is powered by a battery and driven by a motor to pull goods or people. Xinxiang Hundred Percent Electrical And Mechanical Co., Ltd. is a company dedicated to the research and development, design, production and sales of the handling industry. The company has a strong annual output of electric flatbed trolleys and can produce KPD low-voltage rail type and KPJ cables of various tonnages between 1 and 1000 tons. Reel type, KPC sliding contact line type, KPX battery type, KPT tow cable type, KP unpowered, BWP trackless handling, KPY traction type eight series of products, of which KPD low-voltage rail-powered electric transfer trolley are divided into tonnage and transmission source Power series electric flat cars for KPDS and KPDZ low-voltage rails.
Technical Parameter of Rail Coil Transfer Trolley:
1. Model: KPX
2. Capacity: 2T
3. Table Size: 1500*1200*400mm
4. Power: Battery Type
5. Wheel Material: ZG55, Single flange wheels
6. Rail Type: P18
7. Control: Hand Pendant + Remote Control
8. Warranty: 24 Months
9. Special Design: The V frame was added for coils handling
10. Other function: Lifting, tilting, plc system, turning, weighing system, etc.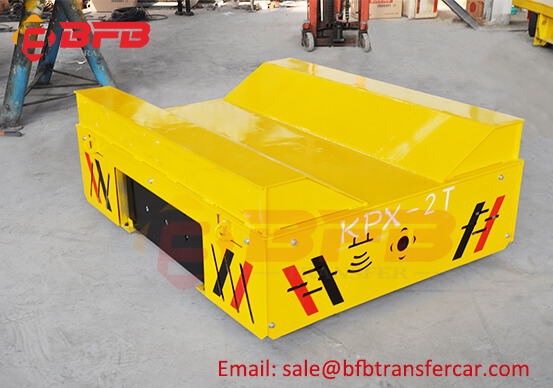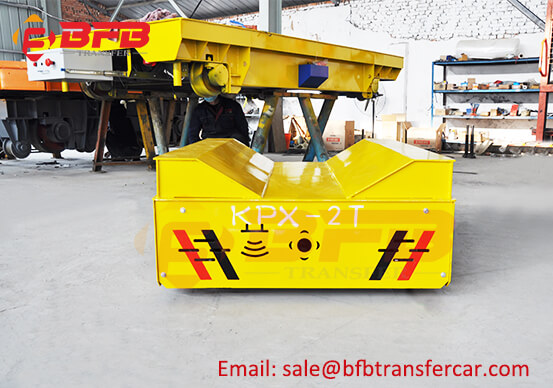 Welcome to contact us for material handling solution.