20mt Battery Operated Floor Mounted Transfer Trolley For Heavy Castings
May 14, 2022
Our India customer purchased 1 set 20mt transfer trolley running on cement floor.
The Inquiry As Following:
1. Floor mounted transfer trolley of 20 MT capacity 4 X 3.5 meter : 2 quantities.
2. Working temperature : Maximum 50 degree Cent
3. Working environment : Dusty
4. We will put heavy castings directly on the cart table.
5. Height of the cast is your choice or design. Low height will help in safety.
6. Regarding sand on the floor will be like normal road only.
7. Carts will be working in all the three shifts in 6 days a week.
In addition, considering the safety and operability of transportation, customers have particularly high requirements for linear running accuracy. Therefore, this trackless transfer cart is assisted by a hydraulic mechanism, which can easily meet customer requirements.
Finally, according to the size required by the customer, the transportation cost will be greatly increased, so we suggest the most economical solution to the customer and fully meet the handling demands.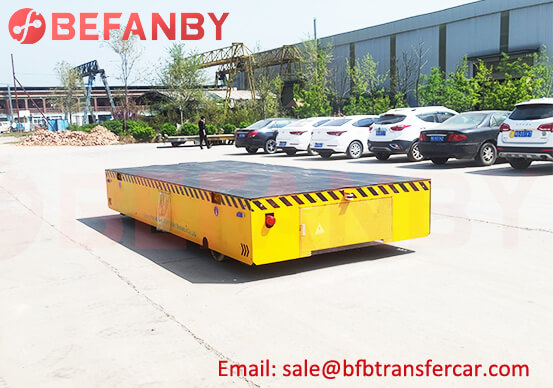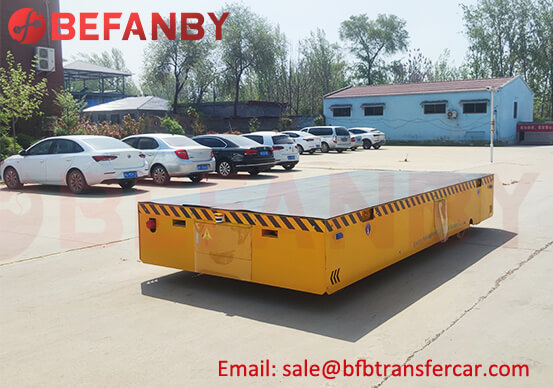 Technical Parameter:
1. Model: BWP
2. Capacity: 20 Tons
3. Table Size: 3000*2000*600mm
4. Power: Battery Powered
5. Charger: Intelligent Charger
6. Speed: Adjusted, 0-20m/min
7. Operation: Hand Pendant + Remote Control
The Video Showing
BEFANBY can customized different type transfer cart on demand. And we have exported more than 90 countries with more than 20 years' design experience.
Just one minutes to send inquiry to us, BEFANBY has help you well to get your economic handling solution and quotation despite whether further cooperation or not.