1500kg AGV Transfer Cart Exported America For Pallet Transport
July 12, 2023
In the field of modern material handling, AGV (Automatic Guided Vehicle) transfer cart has become a very important technological innovation. AGV transfer cart can effectively solve the shortage of human resources in the logistics process and improve logistics efficiency and accuracy. One of the widely concerned AGV transfer carts is the 1500kg AGV transfer cart.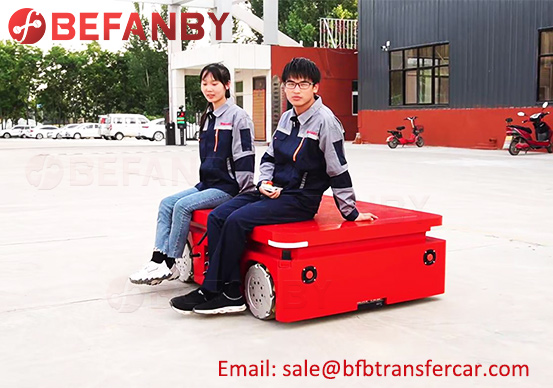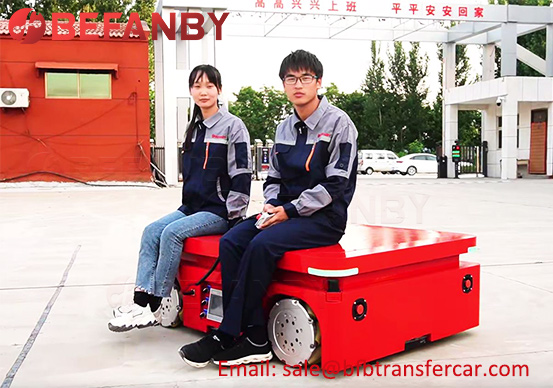 This article will introduce in detail the function, technical parameter, application and importance of the 1500kg AGV transfer cart customized for our American customers in the field of workshop handling.
America AGV Transfer Cart Function
BEFANBY customized 1 set 1500kg agv transfer cart for our American customer, the agv transfer cart was used in their factory for pallet transfer. The 1500KG AGV transfer cart is an unmanned vehicle that can automatically guide the transfer of items. It uses advanced navigation systems and sensing technologies to accurately plan travel paths, avoid obstacles and efficiently transfer items from one place to another. This agv transfer cart can carry up to 1.5 tons and is therefore ideal for the transfer of medium to large items.
The AGV adopts Mecanum wheels, which can realize longitudinal and lateral translation functions without changing the direction. Each wheel is driven by a servo motor, which can also realize the rotation function. The agv transfer cart integrates three navigation methods (laser navigation, two-dimensional code navigation and magnetic strip navigation), which can be used in a variety of ways. The agv transfer cart is equipped with a laser plane fan-shaped stop sensor when meeting people, which can meet the 270-degree area range, and the reaction area can be set arbitrarily within a radius of 5 meters. Safety buffers are also installed around the body. When people encounter it, the AGV will stop immediately to ensure the safety of people and vehicles. Five emergency stop buttons are installed around the body. In an emergency, you can press down and make an emergency stop. agv transfer cart use lithium batteries as power, which can achieve fast charging. A charging slider is installed on one side of the AGV, which can be automatically charged with the ground charging pile. The four corners of the AGV are equipped with customized corner lights, which can be set up to have a better streamer effect and a full sense of technology. There is a maintenance cover on the roof for easy maintenance of faults. The rounded corners are designed around to avoid right-angle collisions.
America AGV Transfer Cart Technical Parameter
Model: AGV
Capacity: 1500kg
Table Size: 1500*1100*500mm
Power: Lithium Battery
Navigation: Laser, QR Code, Magnetic strip
Floor: Flat Concrete Floor
Control: touch screen control and hand pendant
Charge Method: Automated Charging
Cargoes: Pallet Transport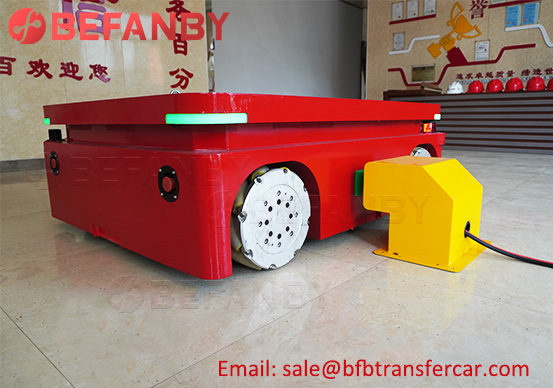 AGV Application
AGV transfer cart has multiple functions to meet the needs of different material environments. First of all, it can be charged automatically without manual intervention, which ensures the continuity and stability of work. Secondly, it can realize intelligent scheduling through the cloud system, improving the flexibility and response speed of handling operations. In addition, the vehicle can also be equipped with advanced safety systems to ensure that no accidents are caused during the transfer process.
AGV Importance
The importance of AGV transfer cart in the field of materials cannot be ignored. First, it can improve handling efficiency. Due to its ability to automate operations, it can efficiently complete the transfer of items in a short period of time. This can not only save human resources, but also shorten the handling cycle and improve handling efficiency. Secondly, the use of AGV transfer cart can reduce the cost of handling operations. Traditional handling operations often require a lot of manpower input, and there are errors caused by human factors. The AGV transfer cart can reduce manpower input, and due to its highly accurate operation, it can reduce losses caused by human errors. Finally, the use of AGV transfer cart can also improve the safety of material operations. It is equipped with a highly sophisticated navigation system and safety protection measures to ensure that there will be no accidents during the transfer process and to respond quickly to emergencies.
Video
BEFANBY can customized different type transfer cart on demand, welcome to contact us for more material handling solution.