150 Ton Electric Power Industry Transfer Rail Cart For Shipyard Industry
September 21, 2018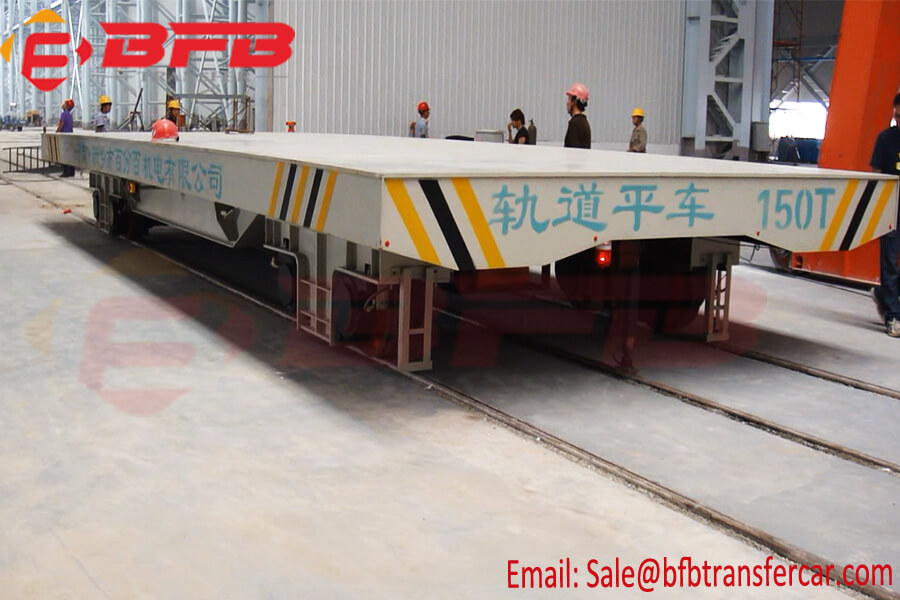 The industry transfer rail cart is is a popular material handling ways, the transfer rail cart has been salt to Fujian Province, which is Production and sales of low-speed high-power marine diesel engines. As per the using frequency and running distance, we designed the low voltage rail powered transfer rail cart.
About the power type, KPD (S) series electric power industry rail cart are 36V low-voltage rail-powered electric transfer carts, and their working principle is to supply power by rail sliding contact lines. The ground step-down transformer control cabinet steps down the single-phase (three-phase) AC 380V to a single-phase (three-phase) 36V safety voltage. It is fed to the rail cart through the walking track (feeder rail sliding contact line), and then boosted by the on-board step-up transformer to a single-phase (three-phase) AC 380V. Provide electric power for single-phase capacitor motors for flat cars (for three-phase YZ cranes and metallurgical motors).
Because it does not use cables, it is safe and reliable. It is not afraid of hot, smashed, and does not hinder cross transportation. It is easy to realize remote control and automation. It can run on bends, ring roads and even forks for long distances, which provides favorable conditions for the rationalization of plant transportation arrangements. However, the track construction requirements are high, and track insulation must be ensured. When the track exceeds a certain running distance, copper row compensation wires should be added to the track. When the running distance is long, the number of step-down transformers must be increased.
Technical Parameter of The Industry Transfer Rail Cart:
1. Model: KPDS
2. Capacity: 150 Ton
3. Table Size: 11000*4000*1150mm
4. Wheel Diameter: 600mm(Insulated rails and wheels)
5. Ground Clearance: 75mm
6. Rail Quantity: 3 pcs
7. Rail Type: QU100
8. Motor: AC Motor
9. Color: Gray, customized Color
10. Operation Type: Hand Pendant + Remote Control
Befanby can customize different transfer cart on demands, welcome to contact with us for more details.