13T Railway Transfer Car Running On Turntable For Mechanical Components Handling
October 17, 2020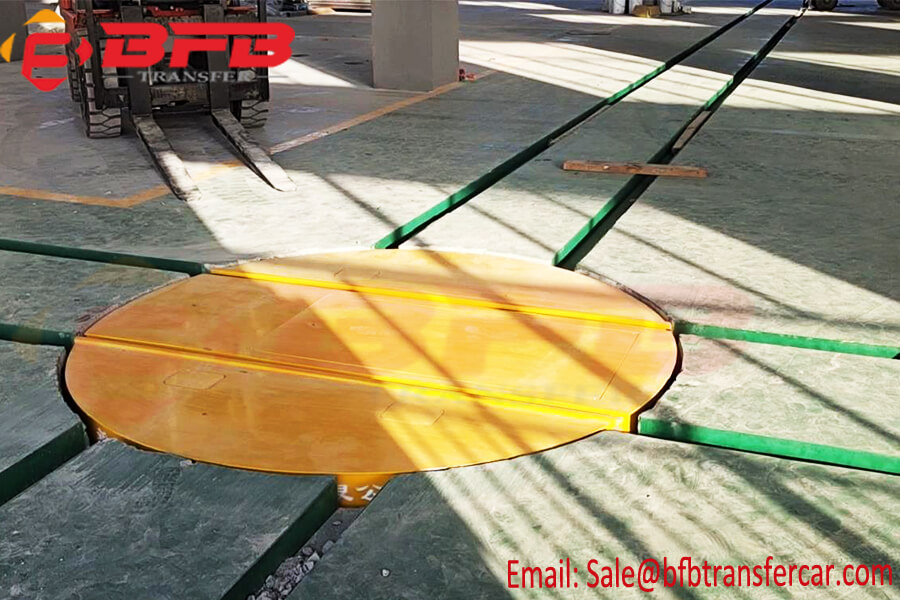 2 sets railway turntable and 7 sets railway transfer car was sent to our customers' site, the turntable was used in the assembly line to move the transfer car to required direction for mechanical components handling. The transfer car is battery powered without limited running distance, and it can realize rapidly charging when the transfer car electricity is lower.
About the railway turntable, It is a kind of equipment to realize the in-situ turning and reversal of the railway transfer car. It is installed at the intersection of two tracks. One or more tracks are laid on the table. The upper surface of the track is flush with the upper surface of the track on the ground. Consistent with the track gauge on the ground, the flat car completely runs to a stop on the turntable, the turntable starts to rotate to the required angle to complete the docking with the ground track, and the flat car starts again to run along the docked track to the desired position. Its special function is a common equipment in rail transportation system. The loading weight of the trolley is the load capacity of the supporting turntable. The rotation angle of the turntable can be set according to the different needs of customers. It can stop at any angle of 360 degrees, and it can also realize the well-shaped cross operation.
BEFANBY support customized material handling solution to you once contact us.
Technical Parameter of the railway turntable:
1. Model: BZP
2. Capacity: 13T
3. Turntable Diameter: 2500mm
4. Turntable Height: 500mm
5. Turntable Wheel Size: 300mm
6. Rotating Speed: 1-3r/min
7. Rail Type: P18
8. Warranty: 12 years