10T Marble Transportation Electric Platform Trolley Transfer On Rails
October 20, 2020
1 set 10t marble transportation electric platform trolley was sent to Henan stone processing factory, the platform trolley is for transporting the material, the power of electric rail trolley is low voltage rail, get power to the electric platform trolley by friction between rails and wheels, and the rails are safe voltage 36V. And as per our customers' requirement, the transfer trolley was required work in 24 hours 15 and 20 times one day. And due to bed working environment, they don't want to cable powered. And the low voltage rail powered can meet the demand absolutely.
Xinxiang *** Stone Company is a large-scale quartz stone brand enterprise integrating design and research, raw material production, finished product processing, product sales and service. The company relies on China's high-quality natural quartz stone production base-Henan Xinyang production base, and uses the world's advanced Italian artificial quartz Stone technology and production equipment, invest in the establishment of a production base with an annual output of millions of square meters of quartz stone, and with the protection of the world's leading first-class technology and high-quality core management team, focus on creating exquisite, environmentally-friendly and high-end quartz stone products.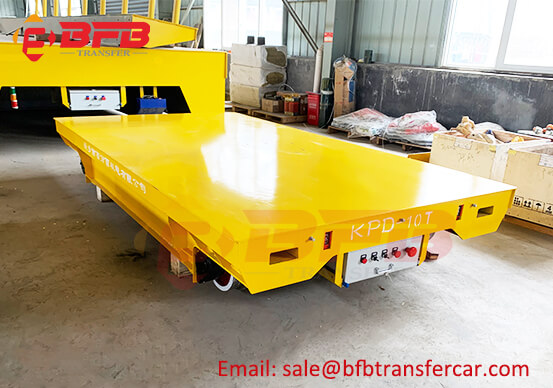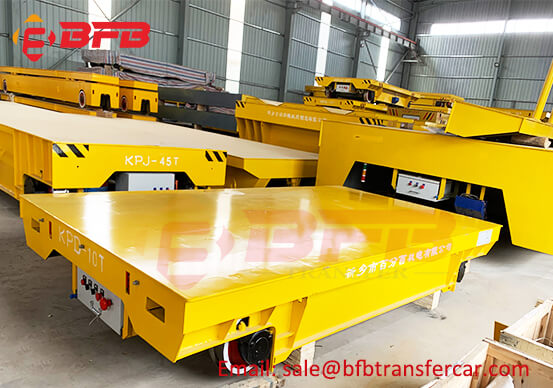 Technical Details
1. Model: KPD
2. Power: Conductor Rail Power
3. Capacity: 10T
4. Table Size: 3300*1650*500mm
5. Running Speed: 10-20m/min
6. Charger: Intelligent Charger
7. Rail Type: P24
8. Control: Hand Pendant + Remote Control
Befanby can customized different type transfer cart from different fields. Welcome to send inquiry to us for more solution.