USA Factory Electric Transfer Car For Inside Steel Girder Handling On Concrete Floor
March 11, 2020
Our customer from the USA placed the order for inside factory steel girder handling, the transfer car need to realize the function of turning, go straight, backward, etc. On concrete floor. Regarding the required size, 4570*1830mm, the turning radius is 2500mm, which can meet customers' factory transfer demand.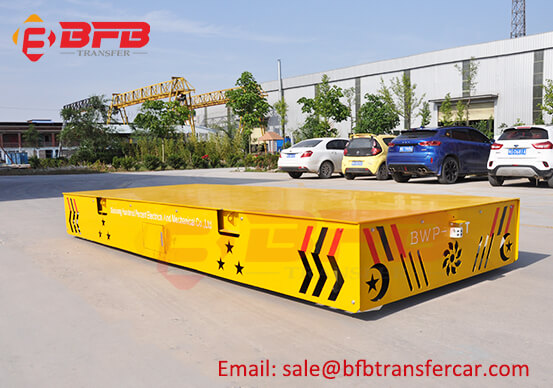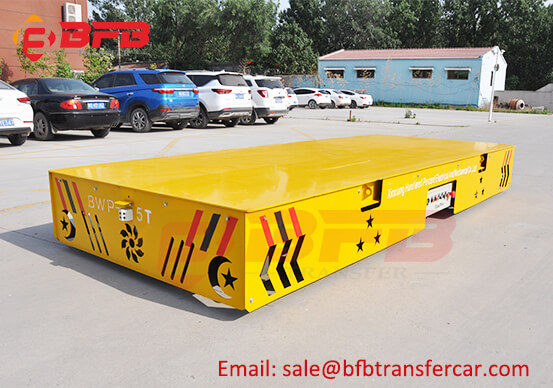 This series of trackless electric transfer cars are composed of frame, wheels, drive system, electrical appliances, and safety devices to realize forward, backward, left turn, right turn and 360-degree rotation on level ground. It mostly uses mechanical steering, with a small turning radius (approximately equal to the length of a vehicle). Due to its uncomplicated mechanism and simple routine maintenance, its wheels are made of solid cast steel with outer rubber/press-fit wheels, which can minimize the damage Damage to the ground, its service life can reach more than ten years, strong endurance, suitable for cement or epoxy floor. The climbing angle of the standard trolley is usually within 2 degrees, and it can climb ≥10 degrees (the cost will increase), and it is generally recommended to use it on flat ground.
There are two types of wheels: polyurethane wheels and press-fit wheels. Polyurethane wheels are suitable for polyurethane ground and cement ground, and press-fit wheels are suitable for asphalt ground.
Technical Parameter of Electric Transfer Car:
1. Model: BWP
2. Power: Battery
3. Table size: 4570*1830*550mm
4. Turning Radius: 2500mm
5. Capacity: 5T
6. Color: Yellow, optional color
7. Running Speed: 0-20m/min
8. Motor QTY: 2pcs DC motor
9. Warranty: 2 years
10. Certification: CE, SGS, ISO9001
Welcome to contact us for material handling solution.