Battery Power Rail Lift Transfer Cart For 12 Ton Structural Member Carrying
December 14, 2020
The electric rail lift transfer cart produced by BEFANBY factory is generally used in occasions where the lifting height of the object is not very high. The object is moved horizontally through the forward and backward of the rail cart, and the work piece is moved up and down through the hydraulic lifting function. The horizontal position of the work piece is changed to meet the requirements of the workshop. Use requirements to improve the production efficiency of the workshop.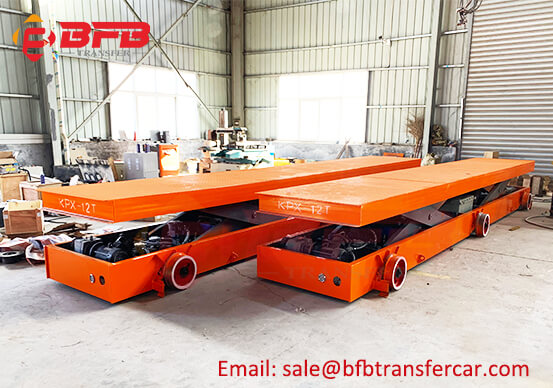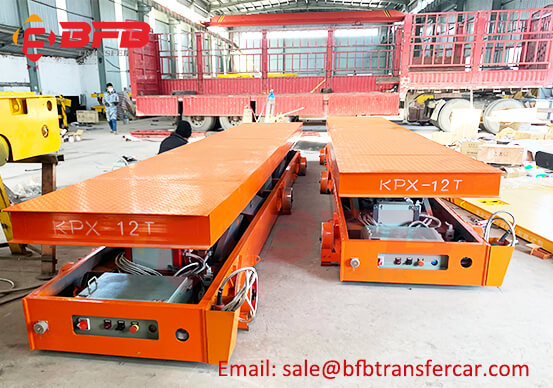 Our customer use the rail lift transfer cart for structural member carrying, In order to realize the spatial docking of the work piece, our engineer design the transfer cart with hydraulic scissor lifting function with 300mm lifting height,and the limit switch on the platform cart can realize the precise docking of the object.The electric PLC control system is adopted to realize the digital precision control and the point-to-point precision Positioning, with the characteristics of stable driving, large torque, easy control of lifting, large carrying capacity, and long service life. It is widely used in equipment manufacturing, mining, machinery, heavy industry and textile light industry.
Technical Parameter of The Rail Lift Transfer Car:
1. Model: KPX
2. Qty: 2 Set
3. Capacity: 12 Ton
4. Table Size: 7000*1100*530mm
5. Power source: Battery Powered
6. Running Speed: 3 - 18m / min
7. Color: Yellow, Optional Color
8. Certification: CE, SGS, ISO9001
9. Working Time: 4-8 hours
10. Special Function: PLC System, Scissor Lifting
Befanby can customized manufacture the various transfer carts as per customers' requirement or your working site despite of intelligent, electric or manual type, all can meet your demand. Welcome to contact with us for more details.