3T Electric Trackless Transfer Carts For Coating Production Line
March 30, 2023
Solution Introduce
Trackless transfer carts are an essential addition to any industrial manufacturing process, particularly in coating production lines. Our customers(Jiangsu *** Company) ordered 4 sets electric trackless transfer carts for coating production line, which were used to carry semi-finished workpiece in the workshop and connect with the production line.
According to the requirements of our customers, firstly, the table of the transfer cart needs to be equipped with tooling brackets to support the workpiece; secondly,the trackless transfer cart needs to keep moving laterally; thirdly, the production line will automatically stop to cooperate with the operation.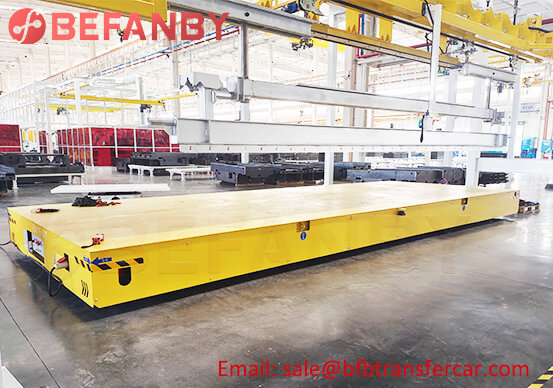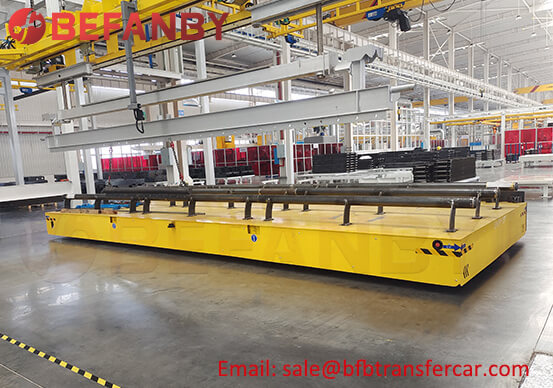 Technical Parameter:
1. Model:BWP
2. Capacity:3T
3. Power: Battery Powered
4. Table Size: 8000*3000*500mm
5. Running Speed: 0-20m/min
6. Operation: Hand Pendant + Remote Control
Customer Company Introduce
Jiangsu *** is an integrator and solution provider in the domestic coating industry. It has successively provided Mitsubishi Heavy Industries, Denmark Maersk, Zhengzhou Yutong, Xiamen Jinlong, China FAW, BAIC Group, Zoomlion, Xugong Group, Sany Heavy Industry And other domestic and foreign brand enterprises have provided several coating production lines, which was used in many industries, such as passenger cars, automobiles, machinery and equipment, etc.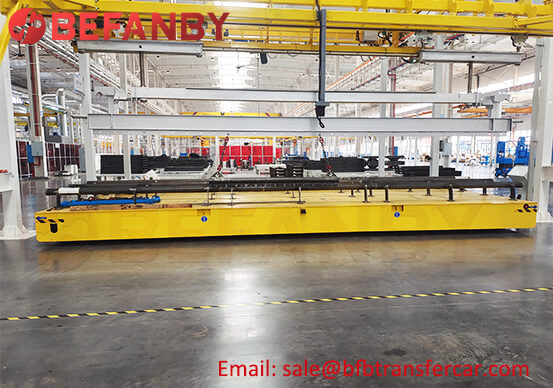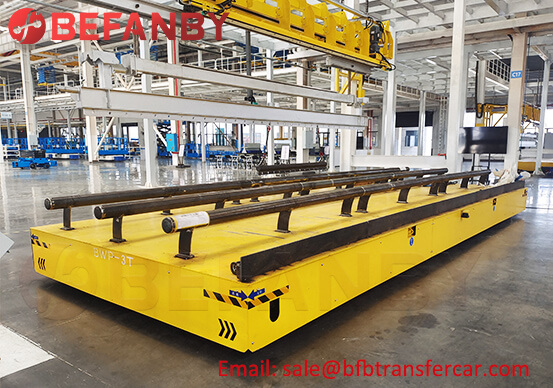 Trackless transfer cart is a popular material handling equipment among the world. Firstly, it is powered by battery, green and environmental; Secondly, it can transport on cement floor without rails; Thirdly, the transfer cart promote workshop handling efficiency; Firstly, the transfer cart is customized products, BEFANBY can customized on your demand and freely provide material handling solutions.
Video Showing
Just one minutes to send inquiry to us, BEFANBY has help you well to get your economic handling solution and quotation despite whether further cooperation or not.