20 Ton Steering Flat Transfer Cart For Road Environmental Protection Equipment Carrying
November 29, 2017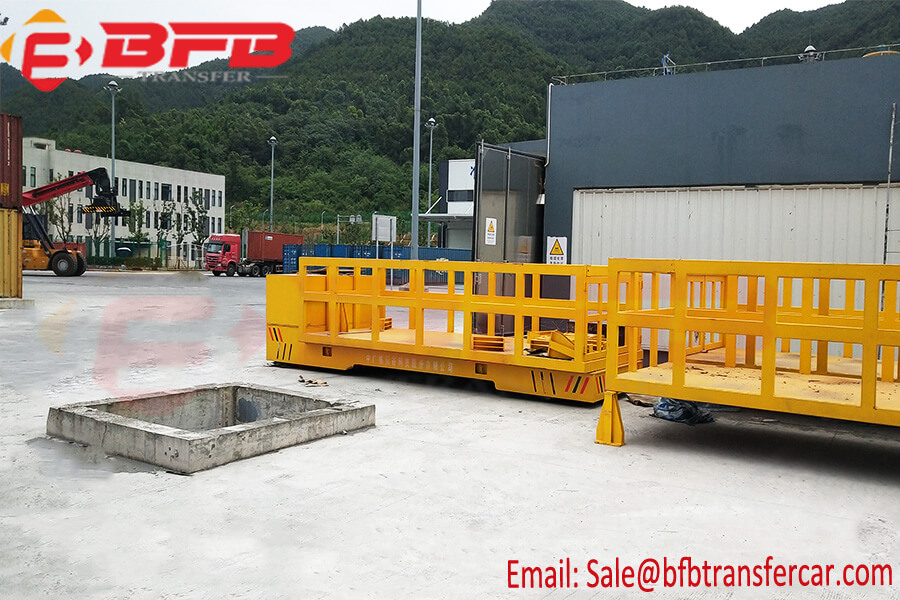 Our customers ordered 1 set steering flat transfer cart for the factory from Jiangxi province, their company specialized in the research and development, production, sales and service of radiation and environmental protection instruments; engaged in software development and system integration and services. They use the transfer cart for environmental protection equipment carrying, the transfer cart need meet the function that transfer cart lifting the transfer platform to transferring the frame and then the frame are applied in handling the environmental equipment.
The steering transfer cart use high-strength polyurethane rubber wheels as driving wheels and load-bearing wheels, which are very wear-resistant and have low maintenance costs. This series of steering flat transfer carts are mainly used in warehouses or outdoor situations where the ground is relatively flat. This steering flat transfer cart fort road uses a maintenance-free battery, super battery life, full load for 5 to 8 hours of continuous work, power display, automatic alarm when it is too low, and automatic power off after charging. The steering flat transfer cart speed can be controlled by remote control and it can keep straight running.
The places of use are: mold handling, production steel structures, and prefabricated parts, processing workshops, metallurgical casting, etc. You can choose the economic transportation method according to the transportation distance and working environment.
Technical Parameter of the Steering Flat Transfer Cart For Road
1. Model: BWP
2. Capacity:20 ton
3. Power: Maintenance free battery
4. Table Size: 6500*1800*420mm
5. Wheel Type: Pu Wheels
6. Motor: DC motor, double motor
7. Running Speed: 0-20m/min
8. Control Method: Hand Pendant + Remote Control
9. Function:hydraulic lifting system
10. Certification: CE, SGS, ISO9001
Befanby support customization, welcome to inquiry us for more details.