10T 20 Ton Motorized Mould Rail Trolley Manufacturer For Mold Workshop Transfer
January 17, 2021
1 set 10 ton mold rail trolley and 1 set 20t mould rail trolley will be sending to our Indonesia customers' site from Qingdao, China Port to Singapore port by sea for their new workshop mold transfer, which is lithium battery powered moved on rails without limited running distance due to required small table size.
Technical Details:
1. Capacity: 10 ton, 20 ton
2. QTY: 2 Sets
3. Table Size: 2200*1300*600mm(20 ton), 1400*1200*500mm(10 ton)
4. Power: Lithium Battery
5. Running Speed: 0-20m/min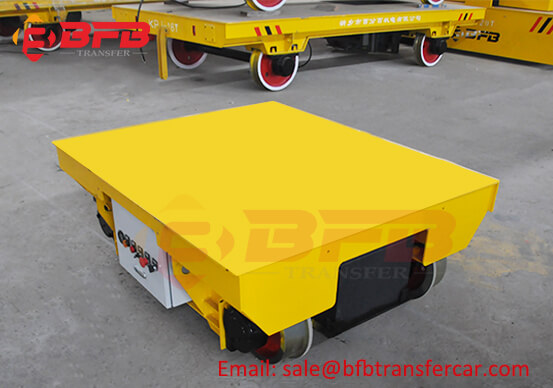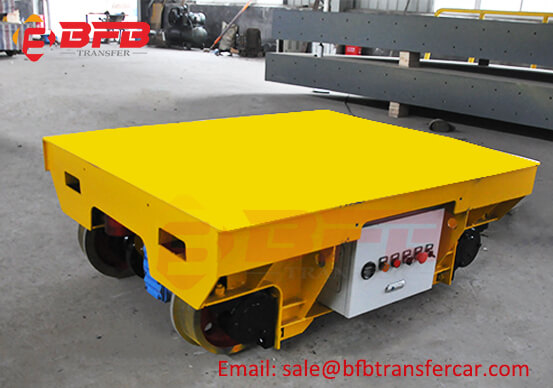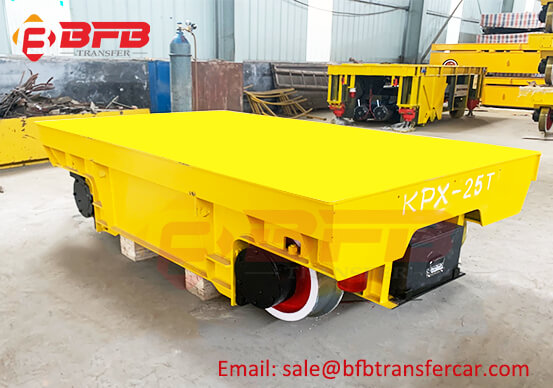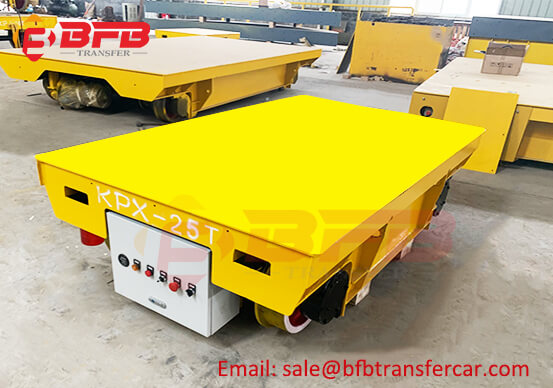 In order to meet the production needs of different products in the mold workshop, different moulds need to be replaced frequently. However, the weight and volume of the moulds are large, and the transportation methods such as forklift trucks cannot meet their production and transportation needs. Therefore, storage battery can be used. Rail trolley transportation, transfer the molds from the warehouse to the required molding machine on the rails, realizing the needs of quick mold change.
Feature:
1. The control is a handle and remote control (a joystick control can be installed on it according to customer requirements).
2. The mold transfer trolley is equipped with an overload alarm function to prevent overloading.
3. The mold rail trolley is equipped with a low battery alarm device, when the power is reduced to 20%, there is an audible and visual alarm on the mould transfer trolley to remind the operator to charge, the flat car will automatically stop when the power is reduced to 15%, but it can be restarted manually. The purpose is to remind workers to charge and prevent battery losses.
4. Use maintenance-free storage battery, easy to use, no maintenance.
5. The mould rail trolley can be automatically powered off after 5 minutes of unmanned operation to prevent workers from illegally operating. When off work or not operating for a long time, the transfer vehicle can automatically power off to achieve self-protection.
6. The mold transfer trolley can realize rotation and reduce the turning radius.
7. The mold transfer trolley is equipped with a human detection device, which can detect obstacles or people in the running direction in time during the operation of the vehicle and automatically control the parking of the vehicle.
8. The sound and light alarm device is activated at the same time when the vehicle is running to warn people and vehicles on the running route. Install the emergency brake button (red mushroom button with self-locking) on ​​the trolley.
9. Rubber plate is installed on the table to increase friction and improve safety.
10. Equipped with a fully automatic intelligent charger, which will automatically power off after being fully charged.
BEFANBY can customzied different type transfer trolley despite on rails or no rails, we can customized as per your site. contact wth us to learn the shop handling solution.